AJ Croix & The Devil's Right Hand Band is set to release his new set of songs on his fourth album release Cumberland Jail, out on October 12.
Presale begins on September 27th on all digital platforms:
https://music.apple.com/us/album/cumberland-jail/1481539388
Physical CD's available at CD Baby or www.ajcroix.com.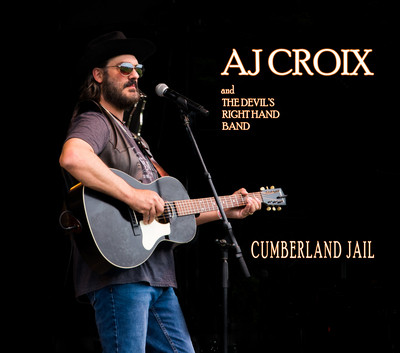 The collection of songs on the album fuses elements of southern rock with outlaw and old school country. While the depth filled lyrics are the true focus of this album, it's Croix smooth yet powerful vocals that add that extra honest touch to the songs. As you listen to the songs on Cumberland Jail, you take a journey with Croix, who not only wrote, produced and sang on every track he also played multiple instruments throughout song set. The album was mixed by AJ Croix and Malcolm Burn (Emmylou Harris Bob Dylan.) Also lending their talents is Jimmy Somma on Electric guitar, Bill LaGreca on bass and Steve Decker on drums.
Cumberland Jail might be eclectic in its style, but the early country influences stand out. There is a tip of the hat to Wille Nelson in the song "Goodbye Nashville" and a little Waylon Jennings on the song "Cumberland Jail" with a bit of George Jones in "I'd Go Dry."
The title track "Cumberland Jail" is full of New Jersey folklore and childhood memories from the time Croix spent in the famous New Jersey Pine Barrens, home of the legendary creature, the Jersey Devil. "The song Cumberland Jail represents my early childhood and my home state. The places mentioned are places I used to visit as a child and had a big impact on my view of the world. My view being that of mystery, exploration and culture of that area. It's the part if me that I have not previously written about and since this album is 100% me, I made it the title track" — explains Croix.
Croix has spent most of his life on the east coast, from Essex County to the Pine Barrens of Southern New Jersey and now resides in North West NJ. Although his mailing address says Jersey, Croix feels most at home in Texas where the musical heroes from his childhood are ever-present. "Texas Music has had the biggest impact on me in my life and is my source of inspiration" he explains.
Croix has covered some ground since the release of his Malcolm Burn produced debut solo album American Idols in 2016. Since then he has played alongside Legendary Austin-based songwriter, James McMurty and guitarist, multi-instrumentalist and three-time Grammy winner Larry Campbell.
AJ Croix is a genre-crossing singer, songwriter, and guitar picker with a love for music that started when he was a young child. He was exposed to a wide variety of music and artists that helped to mold him. His inspirations include Willie Nelson, Waylon Jennings, Johnny Cash, George Jones, John Prine, Elvis, and Frank Sinatra, but it was the songwriters like Jim Croce, Hank Williams, Townes Van Zandt, Tom Petty, Bob Dylan and many others that made him want to write songs and tell stories. In his teens, he discovered roots music and rock and roll. The Stones, The Beatles, and the list goes on, all became influences on the songwriter he is today.