What would happen if you took an iconic country song and turned it into a swinging little Americana number? Well, wonder no more because Alias Wayne has beaten you to the punch with its version of "Ring of Fire."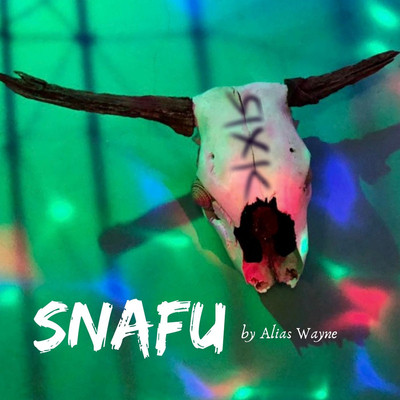 Taken from the act's SNAFU album, it is built on many of the elements oftentimes found in traditional country music. It has plenty fiddle and harmonica, for instance. In fact, it may be more traditionally country than Johnny Cash's original. You may recall how Cash's version featured a brass horn fanfare. Horns may work just fine in, say, the band Chicago or Earth, Wind & Fire. It's not, though, something you usually hear in your local honky tonk. Therefore, you can't sincerely say Alias Wayne has somehow un-country-fied Cash's iconic song; it was rather un-country from the outset.
A bigger problem with Alias Wayne's take on "Ring of Fire," though, may be the emotional weight – or lack thereof – it carries. Yes, Cash's version is lightened by the song's melodious horn parts. Yet, Cash's bellowing singing voice expresses deadly dread. The taste of love may be sweet, as its lyrics tell us, but going, down, down, down, where it burns, burns, burns is not exactly a happy sounding scenario. This is not, in contrast, Elvis' hunka burning love. This is fire burning in a way that stings. Love songs often talk about being hot for another, but "Ring of Fire" portrays love as a dreadful pit. Instead of extolling all that's great about falling in love, Cash's performance expresses the helplessness of romantic attraction.
STREAMING:
https://open.spotify.com/track/1QdXx8uIaGZShgk4Ungfi8
Knowing what we know about Johnny Cash, this song is hardly biographical. His second wife, and many times his savior, June Carter Cash (who, by the way, helped write "Ring of Fire") was no dreadful beast from the depths of hell. In fact, this song is not even talking about a specific individual, as much as it describes a circumstance – that of being in the tight grip of love.
Alias Wayne doesn't sound afraid of what love can (and will) do. Instead, this descent into fire rings comes off more like a happy walk in the park. 'Let me gently fall into the flames,' Alias Wayne sounds to be telling us. This ring of fire sounds more like a fire pit at the beach, where one might get singed while attempting to roast a marshmallow just a tad too close to the fiery glow. Clearly, this is a different take on the song. Alias Wayne obviously loves the original and doesn't disrespect that iconic work by overly deconstructing it. If you love the original – as do most true music fans do – you'll probably get a kick out of the way Alias Wayne reimagined it. It's a fine recording. With that said, though, by its tone, it's not the same song. You won't drop your dating app-opened phone like a hot potato after hearing it. As with any especially good song, "Ring of Fire" is one that retains its integrity, no matter how it's arranged. This single is more of a curiosity than an essential purchase. Nevertheless, it's no doubt good fun for music nerds.
-Dan MacIntosh