This was a fantastic listen because the recordings are stripped completely down and the project wasn't some over-the-top, over-produced production full of bells & whistles. Sylvius just lets the piano do all the talking on his new EP titled 'Here With Me'. The result is refreshing to say the least and the effect it will have on the listener is immense.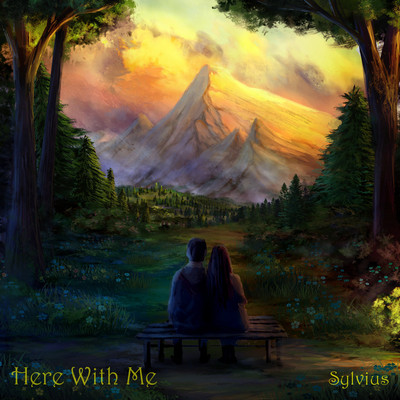 For many years, Sylvius performed and wrote rock, jazz & metal songs, but now this artist wants to switch gears and give you something more with less. Mission accomplished because 'Here With Me' proves that simple notes from keys can deliver plenty of punch. This EP is dubbed as "a solo piano album of heartfelt, uplifting romantic pieces". Sylvius has come up with four creative & well-constructed compositions that will free your mind and soothe your soul. Tranquil melodies will surround you on 'Here With Me' starting with the opening number called "Our Adventure Begins". Here, Sylvius invites the listener to embark on a wonderful journey full of bliss and void of all stress. This calming sensation continues with track two, "Moment of Beauty", where a sense of serene stillness engulfs your eardrums. Next up on the title track, "Here With Me", Sylvius performs with such elegance & precision but all done in simple fashion. I have to add that there is a powerful force bursting with emotion on "Here With Me" and it can't be contained! The closing song, "Onwards and Upwards", is exactly that with Sylvius hitting all the right notes. This track is the perfect finish because it is inspiring & uplifting allowing for the listener to get lost in this space of airy time created by Sylvius.
This EP is set to be released on September 16, 2019 and you can pre-order 'Here With Me' at Gumroad (https://gumroad.com/l/here-with-me). This EP will be available on all popular streaming services, so make sure to grab a copy soon because you don't want to miss out on Sylvius and his wondrous piano. 'Here With Me' offers such peaceful symmetry and utter relaxation allowing the listener to escape the real world for a bit and enter a care-free zone. This world comes complete with thought-provoking imagination and pure joy courtesy of your pianist/composer Sylvius. 'Here With Me' deserves a round of applause and a big BRAVO!, so now it's time for an Encore Sylvius!
By Jimmy Rae/JRae23