Desolo is an army vet born in Venezuela and he now resides in Olympia, Washington. I wasn't able to decipher the lyrics due to the words not being in English, BUT that didn't even phase me! Reason being is because Desolo has a way of universally connecting with listeners through the music itself. "Te Extrano" showcases Desolo as a true artist of Today as you will hear elements of: Pop, Latin, Hip-Hop and even a little splash of R&B.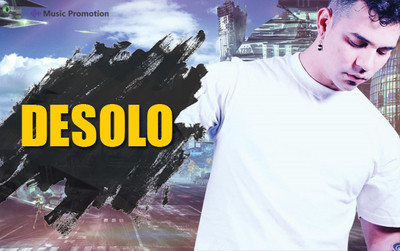 As soon as I hit Play, I picked up on a very Pop-friendly tune that contained real substance & flavor. Desolo comes across as a smooth operator on "Te Extrano" by gliding through the track with such ease. This new single is melodic and just pure musical harmony that appeals to today's Pop market. Vocally, I feel Desolo offers a lot with such a pleasing, fan-favorite tone. The appeal factor is in full effect for Desolo and his fresh, new song "Te Extrano".
Desolo is a Featured Artist on Reverbnation Latin Global charts and "Te Extrano" is sure to make the climb to the top. Desolo does all of his own sound engineering and has a real passion for music & life in general, which comes across in this single. "Te Extrano" is one catchy song with Desolo dishing out plenty of energy & good vibes. Desolo cherishes music and the effect it can have on people, which shows on his latest creation, "Te Extrano". I have a feeling listeners are in store for much more to come with Desolo just getting warmed up!
Artist Social –
https://twitter.com/Desolo_Music
https://www.facebook.com/desolomusic/
https://www.instagram.com/desolomusic/
https://www.youtube.com/channel/UCW0iqaMTK4agUnOZvYHLMgA
'Artist on Reverbnation Latin Global charts – Army Veteran – Venezuelan – I do all my sound engineering -Being featured on Reverbnation homepage for my newest single (Te Extrano)'
Address – Olympia, United States
Genre – Hip hop & rap, Latin, Pop
Keyword – Young Washington artist Desolo
By Jimmy Rae/Jrae23