Are you looking some vape atomizers? let me recommend one popular rebuildable atomizer to you: DOVPO x Vaping Bogan BLOTTO RTA. I have purchased this little thing. Actually lots of person say that this is the best RTA. I decide to review it to you.
Which Products In The Package?
DOVPO BLOTTO RTA is a great RTA,coproduced by DOVPO company with the Vaping Bogan youtube channel.
One package, it include all these things:
1 x Blotto RTA (2ml)
1 x Glass Bubble Tube ( 6ml )
1 x Ultem Bubble Tube ( PEI, 6ml )
1 x Accessory Bag
1 x User Manual
1 x Bottle Opener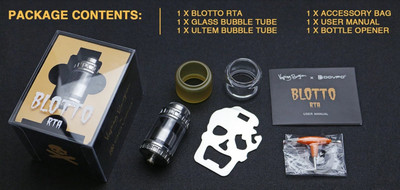 Where Are The DOVPO BLOTTO RTA's Innovation?
There is a Vaping Bogan symbol logo on the side of rta. There are two white aprons at the DOVPO BLOTTO RTA bottom and top. The purpose is to increase its sealing to prevent juice leakage, DOVPO BLOTTO RTA has the top capped with the bottle design and bottom with the bottle design too. The best part is the excellent airflow system. Bottom with 26 holes on both sides to increase airflow, bottom is a ring that can be rotated, we can rotate the bottom to control the airflow to get different taste. 242°of airflow direct to the coils will bring smooth flavor. It is a great RTA, it can be able to reach great temperature, act in concert with 242°of airflow structure, you can see the skewed iron piece and intake system with 26 holes at the bottom, allows the juice in the cotton to fully contact heat and air, produces a better taste. Skewed iron piece and intake system with 26 holes at the bottom, please look at the picture: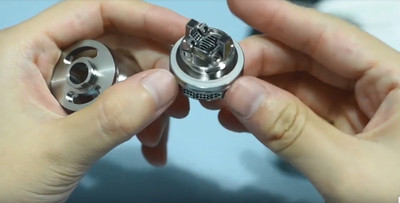 Give 2 Larger Capacity Bubble Tubes As A Present
DOVPO BLOTTO RTA has a 2ml capicity with straight glass tube, inside with the inner chimney. In pace with the juice in 2ml capicity will be impacting and has a small amount of residue, we can also find two bubble tube with 6ml in the package, the purpose is to increase the capacity to satisfy vape lovers' need, one is glass material, the other one is ultem material.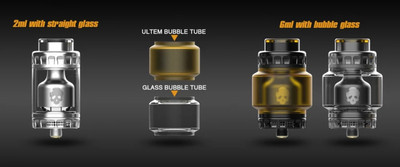 Which Things In The Accessory Bag?
The accessory bag contain two white rubber gaskets and one rubber gasket, 2PCs vape coil and a diy tool.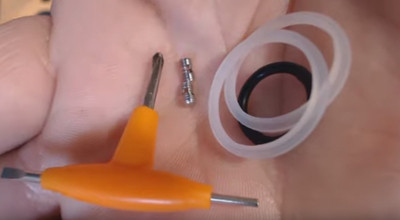 About The Bottle Opener
The bottle opener is a cool thing: A little skull, it is not only a bottle opener but also doubles use. You can use it as a bottle opener, it can use as a tool to build the vape coil on the replacement coil head, can also use it as a knife to cut your coil ends.
Please look at this picture: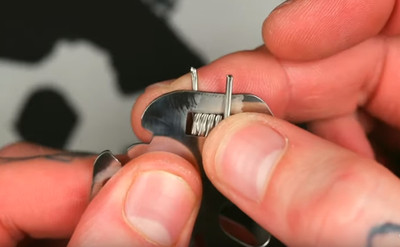 What Is My feeling After I Use It?
From the RTA I have tasted, I am serious to talk about it, I think it produces a very good taste, through airflow control system, you can allow it to produce more smoke, can also control it to produce less smoke, of course, the taste is not the same. It is to me, when use it, I adjusted the power to 75 watte, the taste is the best for me, the taste not signs of dry heat at all. The quality of this RTA is no problem. Its price above the market is roughly around $50. Three colors provide us to choose: Gunmetal, silver, black, I buy the silver one, I think this color is cool.
If you also like the DOVPO x Vaping Bogan BLOTTO RTA 6ml, or want to experience the taste of this RTA, please click this: DOVPO BLOTTO RTA 6ml – Vapeciga.com to know more, this is a pre-order link, believe me, when it comes to normal sales, there will be big discounts and special offers, because I bought some vape devices in this online store. I understand the situation of this online store www.vapeciga.com.