Matty Marz creates funky, sometimes explicitly sexy, music. This EP's title track is a confession of sorts. It's built upon an elastic bass part and a slightly throwback dance music groove. He sings on the chorus, "la la la love fool." This track is only 2.58 in length. He also sings, "My heart won't always beat forever," which expresses an urgency. He may admit to being foolish about love, but he's impatient and will do whatever it takes to get exactly what he wants. The project begins with this; a track that is short, sweet and straight to the point.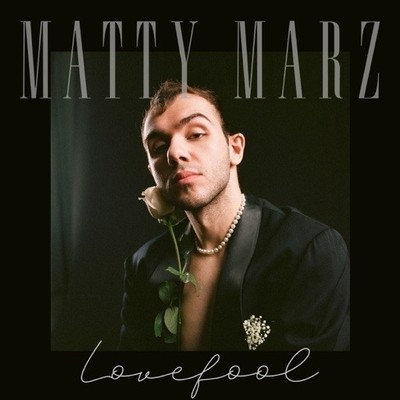 With "I Got a Crush on You," Marz applies an old-fashioned term over a stripped down, sparse instrumental bed. 'Crushes' are usually associated with schoolgirls and their bedroom Jonas Brothers posters. He may be wording his feelings with old school terminology, but his song is very much an adult track. He even drops an "F" bomb along the way, just to prove his seriousness. He sings about how he's always counting the seconds, minutes, hours and days that he thinks about this other one. 'Crush' is likely not the best word for how he feels. A better term would be obsession. If he's counting all the time he's devoted to contemplating this other person, he's obsessed – not just somebody with a crush.
DSP – https://song.link/album/i/1475615009
"Pretty Boys" is also a breathy-vocalized soul song. On it, Marz sounds a lot like Terence Trent D'Arby. It's a bit of a throwback, in the best possible way. Marz sings about being addicted. Much like "I Got a Crush on You," Marz comes off as obsessed – again. There's a raw quality to Marz's music, which is impossible not to notice. He doesn't sing silly love songs; he's deadly serious.
Marz begins "Dirtbag" with a vocal which is closer to rap than the sort of singing that precedes it. Marz sings about how others call him a dirtbag. Musically, this track is the EP's most aggressively rocking. It has a sparse percussion part, but it also features a gutsy electric guitar part, too. Much like Prince before him, Marz recognizes the value of rock and roll, and so he mixes this in with his soulful sounds. Unlike the other songs on the project, which are love and romance related, this lyric is closer to a self-affirmation. "Even when the world's against me/I know my truth," he exclaims. They may call him a dirtbag, but he knows who he is. And who he is not a dirtbag. It's gotta be tough fighting against a bad reputation. Marz is by no means ready to give up his fight, though, and this is akin to his battle statement.
Matty Marz may call a song (as well as this EP) love fool, and while he may be an admitted fool for love, he's no fool – at least not in the general sense of that term. He is a smart, wise, talented musician. He sings with a distinct voice and knows his way around constructing a memorable melodic hook. These four tracks are all top tier and worth a listen. No fooling.
https://www.instagram.com/iammattymarz/
-Dan MacIntosh