This duo's explosive sound blew me away on their brand new album titled 'Pretty Little Secrets'. Grifters & Shills is made up of: John and Rebecca Stoll and together their chemistry on and off stage is impeccable. The two Texans met back in 2008 while playing in a classic rock/blues jam band and the rest is history!
The amazing fact about Grifters & Shills is that both musicians not only write and play all songs but also incorporate about a dozen instruments. This two-piece band is just a musical explosion with pedals to the metal & full steam ahead! I absolutely love how Grifters & Shills mixed in numerous elements from country & rock to blues, folk and even alternative. The duo has even dubbed their style as "high lonesome heavy metal" that is "amplifyin' and testifyin' for your soul". Grifters & Shills is no joke and such a refreshing dose of persuasive audio.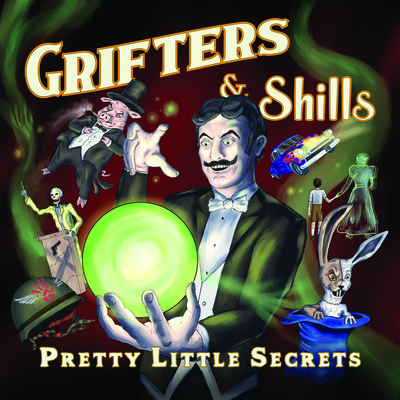 One aspect that sticks out like a sore thumb on 'Pretty Little Secrets' is the perfect symmetry between John and Rebecca. Vocally & musically, Grifters & Shills is the total package as the listener will hear the close connection firsthand. There are so many infectious grooves & melodies throughout this 15-song set and a little something for everyone. Fast, slow or in between, Grifters & Shills has got you covered on the new record. I also picked up on an edginess that saturated this entire album like on track five, "Sweeter with Wine", that provided plenty of intoxicating sass & brass balls. This sense of attitude can also be heard loud & clear on "Keepin Score" where the duo comes across as an amped up Johnny Cash & June Carter proclaiming that "all this shit won't matter anymore". Another aspect that draws you in is the pure enjoyment that Grifters & Shills portrays. On the songs, "Never Again (Again)" and "Left Right Left", you'll want to dance a jig, get down and have a good 'ol time. Track seven, "2-55", is fiery fun while track eight, "Taxidermy Town", gives the listener a quirky, carefree environment. Rock out to the driving force behind "Highway Ride" and then brace yourself for one, wickedly good jam on "Hell & High Water". I can't say enough about the wonderful harmonies and marvelous melodies from Grifters & Shills. Rebecca Stoll's voice, in particular, can best be described as a little slice of heaven mixed with fierce notes. Rebecca Stoll's vocal delivery comes across as a lover and a fighter and Grifters & Shills certainly dishes out the best of all worlds on 'Pretty Little Secrets'. The Texas twosome ends on a very high note with "Somewhere to Go" where Grifters & Shills give you one fantastic finish with finesse.
This new record is due out on November 09, 2019 and this is one you will want to add to your collection. Honestly, I didn't want the album to end because I was enjoying it so much. Grifters & Shills sing and perform with the utmost sincerity while displaying true synergy as one cohesive unit. 'Pretty Little Secrets' is a fantastic project between two people who live for music & each other. That is the secret of success for Grifters & Shills!
http://www.griftersandshills.com/
By Jimmy Rae/Jrae23