Rev Peter Unger Feat. Grace crafts a caring compassionate world with "There's a Spirit II". Done with the utmost of care the whole of the piece is soaked in optimistic light. A polished, professional sheen radiates from the whole of the work, ensuring that its meditative reflective quality becomes readily apparent. Over the course of the piece the guitar work has a clear and lovely hue to it with each small flourish gaining the utmost impact. By far the highlight comes from how effortlessly Rev Peter Unger and Grace's vocals intermingle to create a tapestry of sound. The layers are added carefully to give it an impressionistic quality.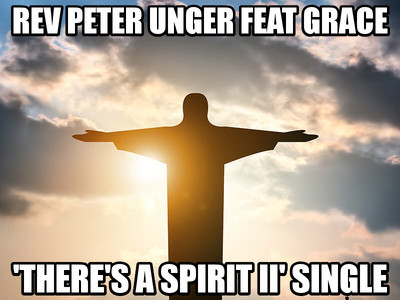 DSP – https://www.reverbnation.com/revpeterunger/song/31081686-theres-a-spirit
The piece opens up with a sweeping twang to get things started on a high note. Upon the introduction of vocals into the mix things truly get started in earnest. Lyricism has a carefully laid out approach to it. Full of such poetry and exploring faith with such thoughtfulness, the whole of the work seems to fully engross the listener. By forgoing percussion, the song possesses a rural pastoral flavor to it. With a stripped down -approach they go for an intimate setting one where every single gesture becomes fully and completely magnified. For the final stretch they slowly peel away the layers of sound to reveal its true heart and spirit.
Going for something truly timeless, Rev Peter Unger Feat. Grace delves into a beautiful stream of consciousness sound with "There's a Spirit II".