So we are here at the @skopemag HQ in beautiful New England and it is Labor Day Weekend – so hopefully we will not be in the office too long today. Anyways we have got a pure musician and just great man here today named Mark Winters. Mark is a Sugar Land, Texas based rock musician whose positive perspective and influences from the people in his life, and a love for guitar drew him to music. Mark is certainly keeping busy these days and he is eager to tell the loyal @skopemag community all about it. If you are going to be in TX – Mark and his band will be performing at the CD Release Concert on Thursday September 12 at Baker St. Pub in Sugar Land. A Nice Labor Day to all even those outside the USA!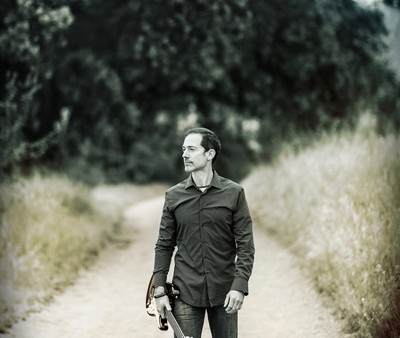 @skopemag: Where are we talking from today and are you happy or sad that Labor Day is here again?
MW: I am at home, in beautiful (but hot) Sugar Land, Texas. Happy for the long Labor Day weekend, but amazed at how fast the year is flying by!
@skopemag: Looking back on this summer what was the most fun music-related thing you had going on?
MW: I finished the production my album SlipStream at the end of May, and had the opportunity to dive in feet first to the social media and advertising world. What a ride! My family, friends and fans were all very supportive as I prepared for the upcoming Album release. Its was very fun to meet the new artist team at Spotify, they are very helpful. I have also enjoyed recruiting the band that will play with me on my live performances, there are so many talented artists in Houston, I feel very fortunate to be in such a rich artist community. I am also working on a group music program for the 2 charities I am supporting.
@skopemag: Is Mark Winters your real name or musical alias – love it!
MW: Yes, although my middle name is Gauthier, my mom's family name (they were very influential in my life, and I am honored to carry their legacy with me).
@skopemag: Offer us a brief history on when you fell in love with music and when did you decide to pursue it 100%?
MW: I remember music being a part of my house growing up, my mom and dad both enjoyed Sinatra, Cream, and The Eagles. As I grew up, a friend introduced me in high school to Rush (I listened to their XXS album a million times). He encouraged me to pick up an instrument, but I didn't listen (sigh)!. Music always moves me, changes my mood, lifts me up or brings me down. Poetry does the same, and my grandmother (Dean, my dads mom) taught me when I was around 5 years old, and we were lifelong poetry pen pals. I noticed as I became engrossed in life, that music and art had become absent from my personality, and decided to do something about it. So I bought a guitar, and asked the shop owner to teach me a song to sing to my wife for our anniversary. The feeling of making music, and sharing an emotion (how ever rough it was at the time) just overwhelmed me. From that point forward I couldn't get enough.
@skopemag: Did you grow up in the great state of Texas and if so, how did that shape you as a man and a musician?
MW: I was born in New Iberia LA, and made my way to Texas for the beginning of high school. Texas has been awesome, the independence, kindness, strength and business flair are all super influences from Texas in my life.
@skopemag: You are involved with some great charities like Oath Inc and Big Brothers Big Sisters Houston. What drew you to these causes and how do you (and readers of Skopemag) help as well?
MW: I have always had compassion for people and the world, but my wife taught me about being a part of the community and giving back with time and resources. As I started working on my song and finding my voice, I thought of things that are important in my life Vetran support and Mentoring. I have always enjoyed helping people in the business world, and have been a mentor and advisor in the healthcare business sector, as well as cousins and family members. A friend in town introduced me to BBBS, and after meeting with their awesome leadership team (Pierce and Alex), decided to support the charity with my music project. I am working with their team on a music and mentorship series, and hope to help raise awareness for the value of mentoring the high risk children in our country. They have several programs to fit all schedules, community based programs and 1:1. More info https://www.bbbstx.org. The Vetran charity came to me from a close friend who is a west point alum, and a gem of a human being. My grandfather, dad, and brother served in the military, and each had a story to tell about how to integrate back into society after their service. Gary Bartels who runs the OATH program is very committed to the mission, and is doing great things. I am working with him on a similar music and connections program to provide at an upcoming event. If you're interested https://www.oathinc.org
@skopemag: You must be excited for your CD Release Concert on Thursday September 12 at Baker St. Pub in Sugar Land. What do you do to prepare for a live show and how long do you usually play for?
MW: I am beyond excited, ecstatic is likely a better mood. The opportunity to share my music and message, Rock With A Positive Vibe with the world is such a blessing. I am so looking forward to sharing the music and perspective with everyone. To prepare myself (beyond the normal wood shedding) I try to remember that my show is all about the listeners experience. I put myself mentally in the show, and play it out in my mind, focusing on sharing the experience and the right vibe for each song. This performance will be an hour and a half, previously my cover song shows have been 3 sets, about 3-4 hours or so.
@skopemag: How long did you work on this new album, 'SlipStream' and what can new and old fans expect from the music?
MW: I started writing the album SlipStream in November of last year, and finished in February of this year. The album name is a nod to my previous career as an aerospace engineer (Bernoulli's Equation in action). Pre-production was finished in March, and we went to Nashville to the instruments early in April. Back out to LA at my producers Channel Land Studios for the vocal takes in May.
Each of the songs tells a story or commentary on the Rock With A Positive Vibe theme; supported by electric guitar, prominent bass lines, and big drums. I love the world, and the people in it, and learned early in my cover career that I could not sing lyrics that I didn't agree with (much to the chagrin of my cover band mates, there are some great groves with not so great lyrics). From the 1st track in the album Be There and its message of avoiding distractions and finding the time to "be there" with the ones you love (Eyes on Eyes, hand in hand, with me be there) to some fun beach vibey toons about my windsurfing beautiful Copper Queen (my wife) there should be plenty of alternative rock for everyone to find a favorite.
@skopemag: What happens in your everyday life that inspires you to create music?
MW: I find inspiration all around me, one of the gifts my grandmother instilled in me through our poetry love. Sometimes it strikes me when I see an angry dialogue erupt between two people about a political disagreement (Shout It, "why don't me talk and then lets listen, no need to shout this is not a prison"), or the journey of my friends and I helping make the world a better place (Brothers "we are the world together, Brothers to Every Man, Hand in hand, this is our land, we gonna move the world, together!). I am currently working on a song that was inspired when I was driving and saw a beautiful rainbow after a summer shower, and when I took off my sunglasses to get a better look, it disappeared! Sometimes beauty is very dependent on the lens you view life through.
@skopemag: I love the message you posted for your video 'Strong.' 'Sharing a feeling of inner strength, staying mindful, pressing hard.' How can someone who is really hurting take these words and put them into action? 
MW: I have found that achieving in life is about keeping your eyes focused on the prize your after. So many times we shift our perspective to where are next step is to be taken, and forget we are on a journey to a destination that is more important that than next step. If your goal is clear in your mind, and you keep your thoughts oriented to that, the chance you will finish strong on that goal is greatly improved. If your goal is to finish a college degree, and you are mindful of that, maybe even have a grade point goal for yourself, your determination and grit (to borrow my friend Spencers tag line) will see you to that goal. If you lose sight of that, and just focus on "getting up to make it to class today" you may find your motivation waining and will not achieve as well.
@skopemag: When you are not making music what do you like to do and what platform do you use to stream music?
MW: I enjoy spending time with my family, I enjoy running in parks (#SummerSun) in the morning, I enjoy #CrazySocks, and mentoring startup healthcare companies (being a closet nerd, or full out nerd if you ask my wife). Spotify is my favorite streaming service as a music listener. I really enjoy their playlist curation, and new artist discovery offerings. In my car, I am an avid listener of Sirius Alt-Nation Channel (yeah Madison!).
@skopemag: You are on various social media and streaming platforms, which one do you find effective in gaining new and keeping up with current fans?
MW: I find most of my current fans are Facebook users. I enjoy the ability to engage and manage videos, pictures, and events through their platform. I do have some instagram followers as well, and twitter, but Facebook seems to be my home base. For streaming my music, Spotify and YouTube seem to be where most of my fans live. A few are still old school and perform iTuners (the non streaming version).
@skopemag: What are you 6-12 months goal(s) in music and where can we follow and like you online?
MW: I am in the process of scheduling live performances for the album, for the next few months those will be in the Texas market, and I have several Festivals in the early part of 2020 that are in the works.
http://www.markwintersmusic.com
https://www.facebook.com/MarkWintersBand
https://open.spotify.com/artist/0dfXqjPrnIgC5fM9HtITATsi=lsAjM7_aT6anUbY1BPqi7g