"Every time we fight you say you need some space, baby / Why'd you keep on walking every time I'm screaming stay?" begs Sherman de Vries in one of the more emotive stanzas in his latest single, the epic "Pretty Cry," a track that has unsurprisingly been taking the underground by storm this August on the strength of its heart-wrenching lyricisms. Sherman de Vries is reaching out to his audience in the most intimate way he can in this all-new ballad, and though it's steeped in much of the same melodic wonderment that his previous release have been, it's an addictive R&B chill-inducer just the same.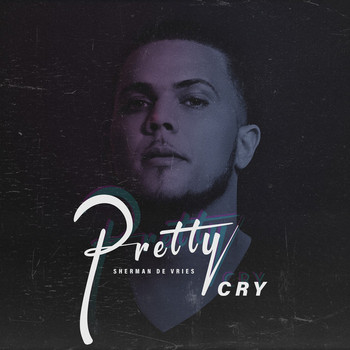 TWITTER: https://twitter.com/shermandevries
The beat here is really versatile and appeals to pop, hip-hop and R&B buffs alike. There's a slight jazziness to its eclectic strut, but despite the surreal quality of its construction, there's never a point where the rhythm of the instruments breaks cadence with the tempered delivery of the lyrics. Nothing is rushed in "Pretty Cry;" contrarily, this is probably the most deliberately-paced composition that Sherman de Vries has released in the last two years. He's more conservative in this track than I expected him to be, and still he's sounding more robust in tone than he ever has before.
"Pretty Cry" has a clubby energy when its chorus is grooving with the full-force of its singer's dynamic vocal, and I could absolutely see the refrain getting an extension courtesy of the right DJs this summer. I don't know that de Vries designed it exclusively for the needs of remixers, but there's no debate as to whether or not the bones of this song were given a little extra pizazz in hopes of sparking some energy on the nightclub circuit. This guy is proven beat-maker, and he's acting like it in this single.
One thing that could have used a bit more of a boost from the EQ in "Pretty Cry" is the bass, but I suppose that I can understand why de Vries ultimately decided to minimize its depth in this particular version of the song. By keeping the bassline more subtle than surly, we're able to enjoy the textured serenade that he dispenses with such immaculate ease without anything to challenge his voice for supremacy in the master mix. This is a vocal showcase for Sherman de Vries, and it effectively shuts down anyone who ever had the nerve to question his abilities in the past.
SPOTIFY: https://open.spotify.com/artist/0PZ5NAziJDDcjnpMvkmMYA
I've only recently gotten into this artist's music, but I really like where he's going with his sound in this single. There's no hesitation in his execution, and better yet, there's no arrogance, either. Sherman de Vries is an educated musician who is evidently devoted to his medium more than most of his pop music peers in the U.S. and abroad are, and even if this latest release doesn't win him the favor of plasticized FM radio stalwarts, I've got a feeling that it's going to further solidify his reputation in the international underground for making unbelievably inspired beats nevertheless.
Gwen Waggoner
The music of SHERMAN DE VRIES has been heard all over the world due to the radio plugging services offered by Musik and Film Records. Learn more – https://musikandfilm.com