They say timing is everything and Lisa Rich feels it's the absolute perfect time to release her third album, 'Highwire'. Lisa Rich actually recorded this album back in 1987, but it was never released until NOW! I'm so glad this material is seeing the light of day 32 years later because the record is just so good and the overall quality is off the charts.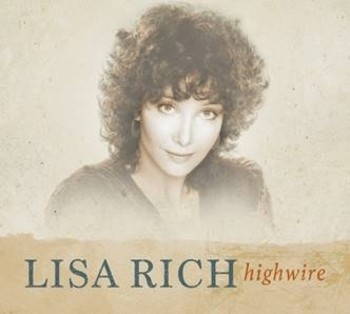 'High Wire' features music by Chick Corea, Ralph Towner, Duke Ellington, Ornette Coleman, Loonis McGlohan and the standard "We'll Be Together Again". Lisa recently remixed this album and I have to say that 'Highwire' is timeless yet fresh as can be. I would never have guessed that these recordings were over 30 years old because they're all so vibrant and current-sounding. Lisa Rich has a sophisticated style and lush voice that helps shape these timely songs. Lisa is equipped with such a pleasant 'n' rich texture to her voice, but I can't forget to mention her backup. We also hear Marc Copland & David Kane on piano, Drew Gress on acoustic bass and Michael Smith on drums. The drums, piano & bass were just flawless to me and ideal accompaniment for Lisa's strong vocals. Overall, 'Highwire' is in the realm of light jazz that offers up a classy 'n' classic sound. Lisa Rich has such a commanding presence with her chops and honestly the entire album is just pure finesse and precision. There are 10 songs on this record and each song has its own identity with some compositions going more up-tempo and others going more low-key. Lisa Rich can give you fun-spirited jazz numbers but then switch it up and provide you with some of the most sincere & passionate pieces of music you've ever heard. Lisa has poured her heart and everything into this project without a doubt; the proof is in the 'Highwire' pudding!
DSP – https://open.spotify.com/album/00HHZP0aIF7ZOO4cP3Ww2b
It's worth noting that Lisa Rich also produced this fine album and I have to say that the final cut is magnificent. With masterful arrangements and such control over every note, Lisa Rich is back and better than ever! I have such a love and respect for the art of jazz and so it's great to see Lisa Rich carrying on this tradition in splendid fashion. There may be high-wire acts out there but I can assure you that this particular 'Highwire' is no act at all. Lisa Rich is one lush vocalist and powerhouse in the jazz music scene, so let's make that perfectly clear. Jazz lives on…and so does Lisa Rich and her 'Highwire' masterpiece. Get Jazzed Out & Stay Jazzy My Friends!
By Jimmy Rae (https://twitter.com/2JRae)