The single "Gemini" is taken from Pistol for Ringo's release, Kings of Bad Behavior. This song and band are most notable for its lead vocal. It's the sort of voice that doesn't really fit with, say, opera, but sure sounds fantastic in rock & roll, and it comes out especially good here.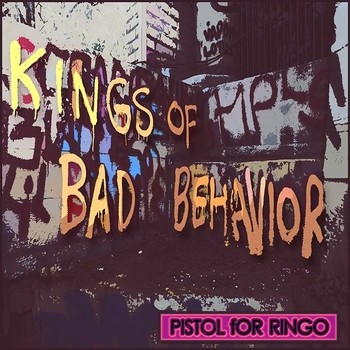 It seems to be a song about a girl. The chorus states, "Goodbye Gemini/Sad to see you go." Gemini is not a typical girl's name, however. Perhaps, the band is referring to a girl by her astrological sign, however. That sign is represented by twins, Castor and Pollux. Might this be why the group sings at one point, "Thank you for giving me this double life"? Then they sing, "I couldn't love you both." It sure sounds astrologically related, whether intentional or coincidental. Maybe it's a stretch, but the wonderful, underappreciated band, Big Star, had a song called "September Gurls," which is about a love triangle, also with astrological implications. That song may have been an inspiration, although it sounds nothing like "Gemini." Categorize them both under astrology-related rock songs, if nothing else.
STREAMING: https://open.spotify.com/track/2fb5YgcFbd5boN037YfVlb
The song's sound is raw and rocking. It's built upon upfront guitar, pounding drums and – of course – the passionate, sandpaper vocal. The band's name comes from the name of a spaghetti western film with same name. That movie came out in 1965. The Ringo character was played by Montgomery Wood, and was a gunfighter who decides to save a family that had been taken hostage. By a Mexican bandit, of course. This act is not merely out of the goodness of his heart, though. He does it to secure his release from prison. The film is categorized as spaghetti western because it was an American cinematic styled work, directed by an Italian. Duccio Tessan wrote and directed this one.
King of Bad Behavior, the project from which this song is taken, is Pistol for Ringo's fifth studio effort to date. The group is mostly Los Angeles based, although it includes Philadelphia singer and songwriter, Ben Arnold. This is the sort of song that will likely appeal to fans of the Replacements (and their imitators, Goo Goo Dolls) and most any band that keeps its music raw. Gin Blossoms is another band like that. There is music that is pretty and superficial, and most music of this variety ends up on the pop chart. Mysteriously, songs with sincere heart, though, also find their way into the public's ears at times. One can only hope Pistol for Ringo is one of those lucky charting lottery winners.
You also must love a record with a name like Kings of Bad Behavior. There are those people that have it all together, the rare royalty, and then there's the rest of us. For much of the population, any potential kingdom would be founded on something more negative than positive. God bless 'em for founding a kingdom on being a bunch of miscreants!
The vocal on this song also has a nasal, Randy Newman quality to it. Enjoying Newman's singing can be acquired taste, but the similarity between the two is a good thing – for those that like that sort of thing.
https://www.facebook.com/PistolforRingo
We're living in a Cardi B world, yes, but there's still great rock & roll being created. Pistol for Ringo's "Gemini" is a good example of the great stuff.
-Dan MacIntosh