Chad Rico, as you may know, is also a math teacher. He's not the sort of professor, though, that takes the full summer off. You probably won't see him at a beach or a national park. Instead, he's getting a 'studio tan,' instead of feeling much of the sun's warmth.
Instead of taking it extremely easy, he's busy putting out a single every week. His latest releases include "Still Wit It," released August 9, "Success with the Shade," put out August 17, "Wonder" out August 23 and "Sleep in the Phantom," with a release date of August 30.
"Still Wit It," goes to a pounding drumbeat. It has a stripped-down groove, with little more than percussion and a vocal. Its chorus states: "Can you deal with it." Rico can per heard rapping rapidly on the track. The song's lyric combines a quest for success, as well as a quest for a particular girl. The track also has what sounds like a Stevie Wonder harmonica on the outro.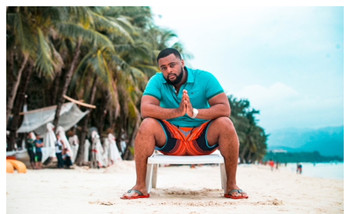 New Singles:
"Still Wit It," August 9;
"Success with the Shade" August 17
"Wonder," August 23
"Sleep in the Phantom" August 30
"Success with the Shade" begins with finger snap percussion and moody keyboard sounds. Rico begins the song sounding tired, before picking up steam. "Success with the shade and the life that you live," he sings on the chorus. This lyric speaks of the detractors that come along, that can't compete with a life well lived. "You can't outwork me," he states often, too. Theirs is no replacement for hard work, when it comes to making it – in any endeavor. Rico also speaks about his family members this lyric. Perhaps, most importantly, he stresses, "I was born here to win."
With "Wonder," Rico sings about city life. On it, Rico also raps its lyric quickly, once again. This one is also stripped down, with little more than keyboard sounds and percussion.
"Sleep in the Phantom" is the most musically sophisticated song of the four. It features a dirge-y intro, with an almost jazzy groove. Rico sings it with a studio-affected vocal. He also provides his own backing vocal. He sings about falling asleep in a phantom. It's not exactly clear what that actually means, if anything.
When Rico sings in "Success with the Shade," "You can't outwork me," he pretty much proves that assertion with this newest set of summer singles. He doesn't seem to know how to stop. He wants to make it more than the competition because he won't stop moving forward. He's like those great basketball players that continue to work at their game. Kobe Bryant, for example, was known to work on at least one part of his game every summer. This was already when he was, arguably, one of the best players of all time. However, there was just no quit in Bryant. He showed this both on and off the court. This is not to suggest that Chad Rico's music is the sonic equivalent to Bryant's hoop skills. Nevertheless, you have to respect a guy that is always working to get better. Always striving for exposure. Always aiming toward that next level. These four tracks are just more recordings in Rico's growing catalogue. He'll certainly have much to say if anybody asks him how he spent his summer.
https://www.instagram.com/internationalchadrico/
-Dan MacIntosh