So here we are up on a Saturday morning – the music @skopemag never stops and we are grateful for that. Today we get to hang with the beautiful and talented Irina Imme. What we really appreciate about Irina is that her music is authentic and her story is real. She has been very busy of late putting out her new EP – 'This Little Girl.' She hopes that by sharing her original music with the world she will inspire others like her and offer a voice for the "underdog". We suggest anyone who is dealing with the ups and downs of life head with us to Brussels to get to know – Irina Imme.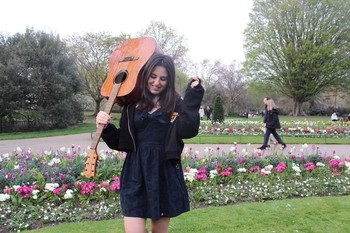 @skopemag: Where are we talking from today and how is / was summer 2019?
Irina: Hi! Right now I'm at home, so in Brussels! I actually just got back from a 2-week trip in Asia a couple of days ago so I'm still a bit jet lagged. My summer was splendid: I got to travel, which is something that I absolutely love, and I got some writing done as well…
@skopemag: Offer us a glimpse into life in Brussels, Belgium with your family and how much music played in your home?
Irina: Brussels is a lovely city, there's always something to do here. And as you've probably heard we have amazing chocolate! However, from my personal experience, the music scene in Brussels is not the most vibrant, at least not for an emerging artist, in the sense that it's quite hard to find a local venue to book a small gig.
DSP – https://soundcloud.com/thepilotlife/
I was brought up with quite a lot of music, especially classic rock (so bands like Queen, Pink Floyd, Journey…), and as I grew older I started exploring different genres and finding the ones I identified with the most. I only started making music myself when I was around 13 years old. My parents bought me my first electric piano when I was 13 and I started playing cover songs on it, and soon enough I started writing my own songs. Then, gradually, I started teaching myself to sing and play guitar as well. But my family never took my love for music as anything more than a hobby. In a way that made me work even harder on my music; maybe someday they'll see that music is so much more than a hobby for me.
@skopemag: At what point in life did you see music as more than a hobby and something you could do as a career?
Irina: I think it was around October of 2018. I had just gotten approached by a group of producers called "The Online Recording Studio" on Instagram who were interested in helping me produce one or more of the original songs I was posting on there. It overwhelmed me at first because I never even thought of producing my music and actually uploading it on music platforms. I was only posting my original songs for fun back then, and to express myself. I think I actually left them hanging for a while; and soon after they approached me, I went through a really rough patch. I had just dropped out of a university that wasn't a good fit for me (which to my family seemed like the end of the world!) and I had gone through the worst break-up ever. I just felt completely lost and worthless. It was then when I actually stopped to seriously think about who I was as a person and what I wanted from my life rather than what everyone else wanted from me. I realized that the one thing that truly made me feel happy and free was my music. And I thought I might as well give my music a real shot. I sat down and wrote "When I Was Young" (my debut single) and sent it over to "The Online Recording Studio", and the rest is history!
@skopemag: Give us two artists / bands that inspired you to pursue a music career.
Irina: There are a lot of different artists/bands that have inspired me, but the 2 main ones are Twenty One Pilots and Taylor Swift. Taylor Swift was the person who initially got me into songwriting. I loved her music growing up and it was her songs that I "studied" so to speak, when I first started writing my own songs and finding my sound. But Twenty One Pilots downright changed my life! I discovered their music sometime in the autumn of 2015 when I was in a really bad place emotionally. I didn't get along very well with my peers at the time and things were tense with my family, so I started feeling really lonely for a good couple of months; my mental health
was honestly at its lowest. When I discovered their music, I felt something I didn't feel before; I felt like I was being understood somehow, and that I was worth more than I thought. Their music helped me get through those months, and I always think to myself: if someday my music helps one kid out there feel understood, and like they're worthy, then honestly that would just mean everything to me.
@skopemag: What happens in your everyday life that motivates you to write and/or record music?
Irina: I'm a person with a lot of feelings, and I guess that's probably something that can be seen in my lyrics. I write about pretty much anyone and anything that makes me feel something. For instance, I have a LOT of songs I wrote during my high school years about boys that I liked back then! Equally, I have written a lot of songs about my fears and insecurities… I guess just any experience or emotion that is out of the ordinary can fuel an idea for a new song.
@skopemag: We applaud you for releasing "A Sky of Gray" and addressing the struggles of coping with mental illness and insecurities. As an artist, do you feel like these struggles are common and what message do you have for others dealing with these issues?
Irina: Thank you! That song will always have a very special place in my heart. I feel like these struggles are definitely common in our generation, especially among artists. I've had pretty bad anxiety ever since I was 14, and I guess without even realizing it, it often impacted my relationship with others. I'm someone who tends to get very attached to people very quickly and when other people don't feel the same way for me, I tend to spiral. I guess that's what "A Sky of Gray" is mainly about – how mental illness can affect you and your relationships with others as well as how expectations you have of other people can impact your mental health. I wrote "A Sky of Gray" when reflecting on a particularly toxic relationship I had. The title of my EP was actually also inspired by "A Sky of Gray" and by my biggest fear which is that I'll never be anyone valuable, that I'll be just a "Little Girl".
My message to other people dealing with these issues is to just hold on, because as cheesy and as cliché as it sounds, it does get better. Once you stop depending on others for happiness and validation and you go out there and find something that's worth something to YOU and makes YOU want to get up in the morning, you start to feel so much better about yourself. In my opinion, it's also super important to find a way to express yourself. I first started writing songs so that I could just process my feelings and my fears on paper. Writing my feelings and thoughts down helped me rationalize them and see them in a different light.
@skopemag: We are excited about your new EP "This Little Girl." How long did you spend writing and recording the EP and how are you feeling about the final product?
Irina: I'm super excited about it too! It's been almost 2 weeks since it came out and I got such wonderful feedback from my audience, it honestly warmed my heart! Actually the writing process didn't take very long for me – usually when I start writing a song I don't stop until I finish it; I feel like it's harder to get yourself into that same mindset all over again in order to continue an unfinished song than to just keep going and finishing it in one go. I also don't like to "overthink" my songs, as in I don't think about changing the lyrics too much once I come up with something. I like to keep my songs as raw and diary-like as possible so I can truly capture the way I felt in that specific moment. I'd say each song took me around 20-30 minutes to write.
Recording took slightly longer though. I was working alongside The Online Recording Studio when it came to instrumentation and actually producing the songs. How it would work is I would tell them the vibe I wanted for that particular song and which instruments I wanted and they'd come up with something. Then they'd send me what they had come up with, and I'd tell them if I wanted them to change anything, and so on, until I was completely happy with the way the instrumentation sounded. Then, I'd go into the studio for a couple hours to record my vocals and send them over to them to mix in with the instrumentation. I'd say the whole recording process took around 2-3 months. I am super happy about the final product; I really feel like the 4 songs captured exactly what I was trying to say.
@skopemag: For those who are hearing about Irina Imme for the first time – what can they expect from your music and do you speak to a certain demographic or all people?
Irina: I'll be experimenting with more genres and styles in my upcoming music; I prefer exploring multiple different styles of music rather than sticking to one genre throughout my entire career. I would say the songs on my EP speak to anyone out there who has ever felt lost, or misunderstood, or heartbroken. My future music will possibly differ slightly from my debut EP in terms of themes; I aim to release lighter music at some point, which deals with the positive aspects of love and human relationships, rather than the negative. I would say there's something for everyone in store in my upcoming music.
@skopemag: When you are not making music what else do you enjoy? Do you work or go to school?
Irina: I'm a very artistic person, I'd say. I quite enjoy photography and painting. This past year I was purely focusing on my music and travelling, but when I'll be moving to London in September to further pursue my musical career, I'm planning to attend some psychology classes while I'm there, and possibly find a part-time job too.
Oh and I almost forgot, food is a big part of my life too. I'm a huge foodie! I love making food, trying new food, just anything to do with food basically!
@skopemag: As a real music fan + artist what platform do you use to stream music?
Irina: In the past I used iTunes and YouTube a lot. But lately I got into Spotify; I found it a lot easier to use than the other apps and I liked that you have a lot of different playlists on there to choose from and discover new music from; I think it's my favourite music platform to use at the moment.
@skopemag: What would you like to accomplish in 2019 and 2020 and where can we follow & like you?
Irina: I'm planning to release a lot more music in the year to come, as well as play more gigs and grow my audience. I'll be aiming to put out some music videos as well in the months to come. As an independent artist, it's honestly a struggle to finance everything yourself, as well as essentially be your own booking agent, manager, etc… I am contemplating the idea of signing with a label at some point, when I find one which is interested in my music and a right fit for me, of course.
I'm also very excited about the fact that I'll be moving to London soon and be starting a completely new life there – I'm excited to see what the city has in store for me and to meet brand new, like-minded people.
I'm on pretty much all the main social media platforms, and I'm also on YouTube. I frequently upload covers, unreleased original music and some occasional fun travel vlogs on my YouTube channel. But I'm most active on Instagram, I'd say.
Instagram: https://www.instagram.com/irinaimme/
Facebook: https://www.facebook.com/Irina-Imme-300680307372261/
Twitter: https://twitter.com/irieleata