Sarah Rogo has been refining her craft and leaving a long-lasting impression on audiences of all ages and musical backgrounds with her energetic and soulful performances. Claiming the title as 'Soulful Roots,' she blends old blues, soul, and folk styles with a youthful twist. She captivates audiences with her haunting slide guitar work and unique style.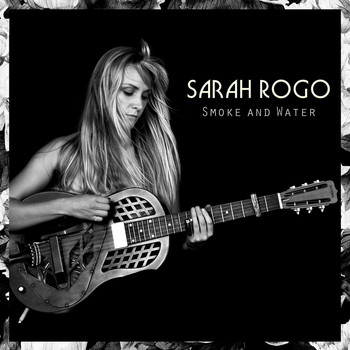 Smoke and Water may be stripped-down but it's also edgy and charismatic with a moody but energizing mix of originals and uniquely twisted covers on classic songs like "Will You Still Love Me Tomorrow," "Voodoo Child" and "Jolene." Rogo's slide guitar and clarinet dance uniquely through the progression of songs and set a mystical and refreshing modern twist to these classics.
"People ask me what I'm influenced by and I laugh because the answers feel so random to them but so special to me," Rogo says. "I spent my childhood in the public library, where stacks of CDs came home with me and opened my mind to a world outside my small hometown."
Growing up on the east coast Rogo immersed herself in jazz and classical orchestras on bassoon, saxophone, and clarinet, claiming to be the "ultimate band geek." She became a young conductor and composed music of different styles and types. As she gained momentum as a guitar player and songwriter, she moved to California to pursue her life as a full-time musician. It didn't take long for things to start to happen. Rogo met her current manager and Funzalo Records owner, veteran Mike Lembo, at the Durango Songwriter Expo in Ventura, CA, where they had an immediate connection.
Rogo signed a deal with Funzalo Records in 2018, and they quickly released "Live at Lestat's West" a collection of her original songs recorded live at Lestat's in San Diego. Since then, Rogo has shared the stage with artists Joe Bonamassa, Jimmie Vaughan, Larkin Poe, and Jimmie Vivino to name a few and led her band in slots at festivals throughout the country.
Smoke and Water will be followed by a series of single song releases later this year. Rogo's full studio album with co-writes and production by notable producer David Ricketts (David and David, Toni Childs, Sheryl Crow, Meredith Brooks) is slated to be released in 2020.
"The common thread in my writing is the dance between dark and light. I've learned to dance with my demons in a healthy way. Life is inherently hard, and the music has shown me how to navigate hardship and turn it into medicine." — explains Rogo