The first impression of THNDR's "Think Twice" is that this is one odd piece of music. The music sounds to be going in two directions at once, in fact. On the one hand, there is the rapidly moving electronic music bed, which sounds a little like Disneyland's Main Street Electrical Parade on speed. Simultaneously, though, the tracks chugs along to a sort of reggae beat.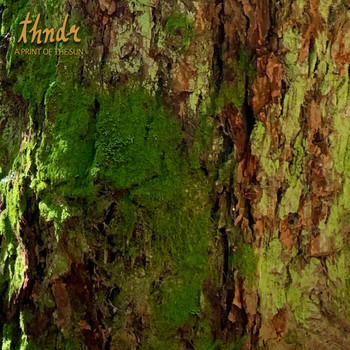 The vocal is a high, soulful sounding element. The singing is also multitracked on the chorus. The lyric seems to be in contradiction to the title. A song with the phrase, "Think Twice," comes off as a warning. If you're going to do something dangerous or daring, well, you better think twice. Nevertheless, the song's words also speak about dancing until the morning light.
This single is taken from the album A Print of the Sun. THNDR is Joshua Hundert's stage name. Hundert is from Vancouver, British Columbia, and he's been creating music for a quarter of century now. He's gained quite a following over the years, too, and has even opened for Saul Williams. He was also blessed to have music-loving parents, who introduced him to the best soul music, which included Motown, Stax and soulful, British rock.
STREAMING:
https://thndr.bandcamp.com/track/think-twice
There's a point in the song that sounds like whistling. It's an odd element, in an already odd song. This is a song one could easily imagine an adventurous reggae singer performing. In fact, Boy George, who did his fair share of reggae music back in the 80s, would be a perfect artistic double for Hundert. The two have similar voices and singing styles. This track, though, is far more adventurous than most anything Culture Club recorded.
On the one hand, this song is a lightweight party song. However, at the same time, many of its musical elements are dark. The listener sometimes feels like he/she is receiving mixed messages. It has the impact of making the listener feel a little dizzy. The bass line is fantastic, however. It sounds like real bass, too, and not some synthesized inclusion.
Categorizing this song is a whole different proposition, which is a good thing. Yes, it has reggae elements. Yes, it is a bit of a dance track. More than just a dance song, though, it also features actual lyrics and singing. In other words, it's not just a series of beats, with words thrown in for good measure. One would be hard pressed to call Hundert a singer/songwriter, but he's obviously interested in more than just creating dancefloor recordings.
The song opens with the line, "Time's just a feeling," which is just the sort of conundrum as this recording's instrumentation. Hundert is using his imagination, playing around with sonic expectations, and creating something that is unlike most anything else you'll hear all day. You may not get it upon first listen. That's okay, though. This one may need to grow on you a bit. So, give it a chance. Then give it a few more chances. You might still be left scratching your head. Even so, this will still be time well spent.
https://www.instagram.com/thndrfunk/
-Dan MacIntosh