Words by Nick Christophers
Photos by Randy C Photography – https://twitter.com/randycphotog
On July 30th at the famous Knitting Factory in the bustling neighborhood of Williamsburg, Brooklyn, young artist Domini Monroe brought her A-game and wowed the packed club.  It is not easy being an indie pop singer/songwriter in today's saturated market but Domini is making some serious noise.  Here is an artist who began singing at seven years old in the New York Metropolitan Opera House. She devoted eight years to the Opera House before branching out to develop her current sound. During her stay with the NYMOH she performed in such famous operas like La Boheme, Carmen and Hansel & Gretel.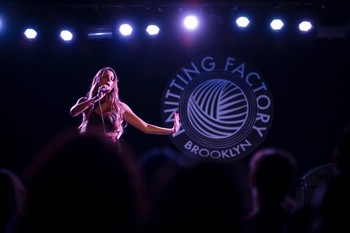 "Performing in the Opera House is what helped define my voice and my sound. Most people say that anyone who sings Opera cannot transfer to pop but I guess I proved them wrong."
As she displayed at the Knitting Factory her music is a blend of soul, R&B and a sprinkle of electro. Her music is not over the top electro or strictly soulful but brings forth a lot of emotion and targets her desire to connect with the audience. She is also a beauty to behold and that only transcends to her positive image. Her sex appeal is a clean one and is never meant to divert from the music she creates.
During her performance she belted out such tracks like "Read Between The Lines" (which has already garnered over 100,000 views on YouTube) and her recent release "Home" (has hit 100,000 streams so far) which she is currently promoting. There were two other artists that performed that night but when Domini took the stage the crowd swelled to capacity. Domini came to deliver her best with no gimmicks or dancers that sometimes take attention away from any performer.
"Inspiring others is my driving force but my mom helps support my driving force."
Her mother has always been her driving force in the business and it has seemed to work.  When it comes to artists she has admired and felt inspired by it would have to be Whitney Houston.  She even put out a video singing a few of Whitney's famous tracks.  Even with her God given talent Domini has contracted celiac disease which has not held her back from her dreams. Her new track "Home" delves into how she deals with this issue which will be evident in the upcoming video for the single.
Besides all the music she devotes her time to charities by performing at fundraisers. Some of the most recent are for Relay for Life, Kids For Kids, St. Jude's Children's Hospital Research The American Cancer Society, and JDRF (The Little North Pole, a yearly fundraiser for juvenile diabetes.  All the charities are important to her yet anyone that is geared to curing cancer is more personal to her since her father was taken by this dreadful disease.  Domini's first single "Pump My Heart" was dedicated to the American Cancer Society and any all the net proceeds went toward the society.
On the horizon for Domini Monroe is the anticipated EP which will possibly drop sometime in the fall of 2019. Her music and image is a welcome ray of sunshine to an industry with not many artists like her. Keep up with her by visiting her website at –