Sabino is originally from Guadalajara but is beginning to make quite the name for himself on the Mexican music scene. His new album is titled Yin, and it's filled with plenty of energetic music.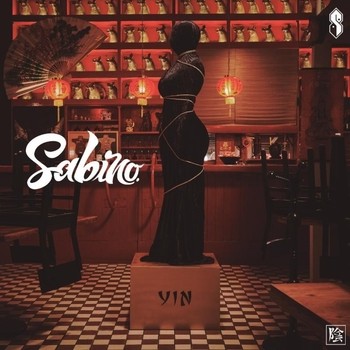 Sabino calls what he does SAB-HOP, as he mixes traditional music styles with more contemporary sounds. The album's best song is titled "Los Enamorados," which – translated – means 'the lovers' in English. Sabino raps on the track, while Loli Molina provides the female seductress. Molina was also born outside of Mexico, in Buenos Aires, Argentina, to be specific. She's studied classical and jazz over the years, and is also an esteemed guitarist, but for this song she brings the sexy vocal. The song kicks off with a blasting brass horn part before Sabino steps in rapping his part while cool-y rolling his R's. Sabino's toughness is soon replaced by Molina's sweetness. About midway, there is an electric guitar solo reminiscent of Santana. This solo gives the song a bit of a "Smooth" feel, which was the hit Santana recorded with Rob Thomas. Toward track's end, a choir of backing male vocalists joins in.
The next track, "La Magia," couldn't be more different. It also features a large group of male backing singers, however. Sabino raps again, but this time he does so over a more contemporary-sounding backing track. "Comigo Siempre" is more stripped down. It features a slightly reggae-dub backing track, along with modern pop production touches. The vocals are all male singers, yet again.
The track called "Jalo" opens nicely with a funky keyboard groove. It's so fine, it's worthy of the group Cameo. Y'all recall "Word Up"? It's not quite that hit song, but it shares a few admirable characteristics. Whereas "Comigo Siempre" included reggae elements, this song actually rolls to a reggae groove.
S – https://open.spotify.com/album/53H9AYzn3j647Tr3JnGI71
"Película" is Sabino's shot at lover's rock. It features little more than percussion and slight keyboards. It sports an easygoing groove and Sabino rapping quietly, in his best bedroom voice. It's not a Barry White low voice, mind you, but it gets the job done.
"Yin Yang," which may have helped inspire the album's title, is a percussion-heavy track, which sounds to reference China in the music's sound. Not being a Spanish speaker, it's not clear if Sabino is singing about the Chinese philosophy where all tings exist as inseparable and contradictory opposites. Examples being dark-light and male-female. It doesn't matter, though, because it just sounds so good.
With "Tú," Sambino sings a fun-sounding song, which also includes backing female vocals. He has a playful tone in his voice, which gives the song away as something light.
"Ya le Bajo" is another track featuring a horn section. Sambino sings it with a speedy rap. The electric piano and trumpet parts also give the song a touch of a jazz feel. The chorus features a large crowd of singers offering "Hey, ho." This one also sounds like it's intended to be a lot of fun. And it is.
There's a plenty of variety on this album. Sambino has a large presence, which makes these songs stand out so much. Whether you're able to understand what his lyrics mean or not, there's still plenty to enjoy with Yin.
https://www.instagram.com/elsabinox
-Dan MacIntosh