Michael Whalen delivers a soulful emotive piece of pristine beauty with the lovely "Cupid Blindfolded". With masterful playing, Michael Whalen attentive, patient style recalls the best of Keith Jarrett's work. By keeping things to the pure essentials, the album, truly resonates in a deep, meaningful manner. The melodic richness of the work comes from the way Michael Whalen lets the pieces grow in unexpected ways. Deeply imbedded within classical music's confines, he also draws from a looser, more impressionistic hue. At times the work recalls some of Debussy's gentler work.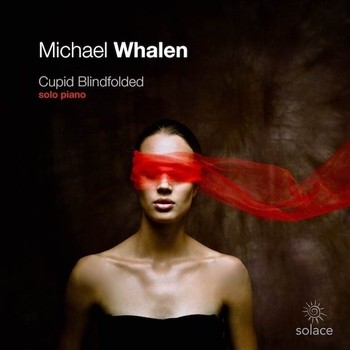 Emotionally resonant, Michael Whalen crafts an entire narrative without needing to say a single word. The album has a living, breathing quality to it. By utilizing a cyclical approach, he creates a whole world with a singular instrument. Understanding both the quiet and the loud, the album itself has a series of unexpected twists and turns. Each piece builds off the last, as a surprisingly large amount of color radiates from every angle. Achingly beautiful at times he lets tempo and texture take over, letting everything have just the right amount of space.
Audio – https://open.spotify.com/album/5f1oYzbHZPBLxRChozOMcJ
Setting the tone for what follows is the lovely opener and title track "Cupid Blindfolded". From there Michael Whalen enters into tender terrain with the elaborate "All of My Heart. All of My Soul". Crystal clarity pours through the whole of the cascading piano keys of "Reflection of My Affection". The pastoral quality of "Sunrise in the Desert" has an intimacy to it while it unfurls with such delicacy. The spaciousness of "At the Touch of a Love" explores the poignancy of decay, for Michael Whalen lets each riff expand into the infinite. Quite gorgeous, it truly serves as the heart and soul of the entire album.
Natural with its playful disposition, "Standing in the Rain" features some particularly nimble dexterity. A jazzy quality comes into the fray on "Serendipity" where the whole of the piece seems to have a liveliness to it. Ending the whole of the album on a majestic note is the spacious and ambitious work of "City of Lights" which neatly brings the album to a satisfying close.
Truly a master of the subtle touch, Michael Whalen shows off his impressive chops on the piano with the lush "Cupid Blindfolded".