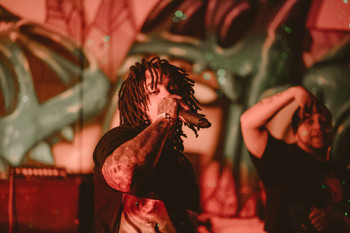 by Nick Christophers
It takes perseverance to make it in the music industry and real talent. Jarv Dee has proven to have both elements and has broken ground in a big way. His music is what he terms as "smoke music" within the Hip Hop world.  That specific style is a more laid back sound which is gaining popularity.
Only just recently he released his new track "Seattle 2 Seoul" which has its roots in Korea.  The brain-child behind the label is Jay Park who is an established artist himself who saw the talent in Jarv Dee and took him into his fold. Jarv Dee has not allowed his new found successes with the label go to his head and has stayed humble. He has been with the label for two years so far.
"H1GHR MUSIC has been great. Jay already had a strong following which helped me expand my fan base. A lot of love from them and in Korea the reception has been awesome."
Jarv Dee admits that his lyrics are based on real experiences in his life not made up stories. He wants to invite the listener into his world so they get to know him on a personal level.  Nothing is more important to him than keeping his music real.
He has collaborated with a few artists but he has felt a genuine connection with KAS (formerly Kris Kasanova). They worked on the track "100" which came off his last EP "Safe Travels". That specific EP was much different than his last release "Red Eye Jedi" which was more melancholy and darker. "Safe Travels" was packed with tracks about his trip to Korea with the label. He also collaborated with another H1GHR MUSIC artist, Sik-K on the track "Foreign Xchange" and with the CEO Jay Park on the singles "Playing" and "Moorning". If he can collaborate with any other artists, he admits that Wiz khalifa, GoldLink or *Devin the Dude would be welcomed.
Jarv Dee along with Nacho Picasso were the founding members of the group Moor Gang until he went on his solo juncture. His popularity and music have taken notice as the Hip Hop blog XXL rated him as one of 15 rappers to look out for.  It was an unexpected honor for Jarv.
"I really appreciate any type of praise from anyone out there. I appreciate the folks who listen to my music. And if I can make any positive effect on someone's life that's a huge plus."
He even had a cameo in the indie short "Just a Kid from Seattle" directed by Jon Jon a local Seattle director.  It was bit of a change for Jarv in the acting role but he had a fun doing it. The film actually did make it to a festival or two. The director also worked on music videos with H1GHR MUSIC artist Avatar Darko. Yet his soul and direction is strictly music as he has returned to the studio to create more great music. You can look into his music on all musical platforms like Apple Music and YouTube.