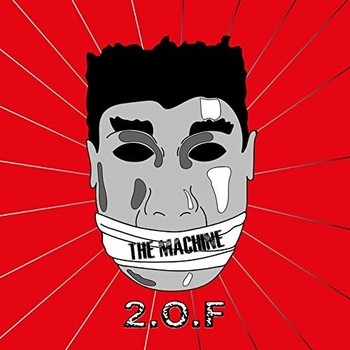 A confident strut of the percussion is all that it takes for the title track of 2.O.F.'s debut EP The Machine to get everyone in the room dancing like it's their last night on earth, and while the beat is eroticized by the feverish rhythm of the bassline, it's only made as potent as it is by the addition of a stinging synthesizer that will form the bones for the record-opening "Birthday" as well. Tim Milliken isn't playing by the establishment's rules in this first release as 2.O.F., and as much as I love the extended play in its entirety, the biggest showstopper in its tracklist is undoubtedly "Darling Anna," its sole single and most profoundly brooding song. "Darling Anna" begins in a tizzy of multicolored synthesizers that sound futuristic and full of vibrancy. The drums enter the picture and bring with them a precise rigidity that provides the perfect canvas for the singer to paint his pristine vocal harmonies upon. We're brought to the edge of our seats within the first fifteen seconds of the single, which isn't something that I've found in a lot of new releases this year.
AMAZON: https://www.amazon.com/Darling-Anna/dp/B07MFCCDL9
As the cornerstone of the aforementioned EP, "Darling Anna" takes fragments of "The Machine" and "Birthday" amalgamates them into a slow-churning vortex of melodies that could act as a club soundtrack just as well as it could an afternoon road trip to the mountains or a bonfire-lit evening at the beach. There's not as much bass as I would have liked, but it doesn't prevent the hook in the chorus from pummeling us with a huge groove. 2.O.F. wears their soul influences on their sleeve in this track, but there's not enough of a swing in the rhythm here to describe this as having an urban polish. The style of attack is straight out of Steve Winwood's playbook, but I feel like categorizing this song as an adult/contemporary tune would be somewhat dismissive of its experimental qualities, which are really what make it stand out in the crowded underground talent pool from which it was spawned. If the "alternative" branding is still effective in any capacity, I think that the term would fit this track exceptionally well. It's not changing the world as we know it, but "Darling Anna" is definitely an outside of the box kind of pop music incarnate.
It's still really early to tell, but I like where Tim Milliken is going with 2.O.F. as it's demonstrated in "Darling Anna" and The Machine. There needs to be a little more focus on the vocal in future mixes, but that said, there's nothing to indicate that this project is going to do anything but incredible things in 2020. This summer can only be described as being a whirlwind for British, Canadian and American electropop artists, but in all of the chaos and scene politics, there have been some deeply gifted performers coming out of the woodwork with truly gripping content like this. I'm looking forward to hearing some more from 2.O.F., and after you give "Darling Anna" a spin, I think you will be, too.
Gwen Waggoner
The music of 2.O.F. has been heard all over the world due to the promotional services offered by Danie Cortese Entertainment & Publicity. Learn more here – http://www.daniecorteseent.com/