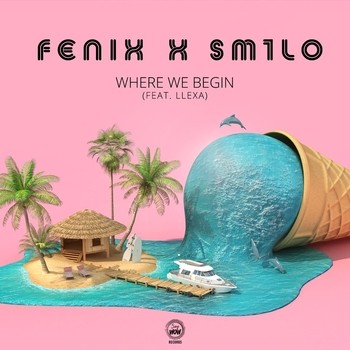 DJ FENIX – FACEBOOK: https://www.facebook.com/djfenix/
Take one part treble, a touch of white noise and a whole lot of understated melodic grinding in the synths – throw them into a sonic mixing bowl and churn as hard as possible (with a ton of volume added in just for good measure), and you'll get the "Dub Mix" of Where We Begin, the experimental EDM offering from collaborators Fenix & SM1LO, which was released this June via Say Wow Records. Where We Begin is a record designed around a singular composition, but even though it lacks in diversity of content, it's ironically one of the more multilayered LPs of the electronic genre out this summer.
The "Radio Edit," "Fenix House Remix" and "Fenix House Radio Edit" are all exceptionally riveting from an instrumental standpoint, but let's not fool ourselves – they're made the top of the line lusters that they are thanks to the amazing vocal Llexa adds to the mix. The "Dub" versions of these tracks are sans a singer, and while they're plenty engaging for the more devout dance fiends among us, to me, they lack the same artistic detail that we hear in the mixes that include Llexa and her one of a kind style of serenading the audience.
SM1LO's remix of "Where We Begin," as well as guest mixer Kali's, have more pop/rock elements in their construction than the other tracks here do, with the latter essentially playing out like a straight-up alternative rock single. The staggered strut of the guitars at the start of Kali's "Where We Begin" is one of my favorite moments in the whole album, and even if it isn't as marred in streamlined surrealism as the straight "Radio Edit" of the song is, it's got a cultured tone to its swaggering rhythm that isn't found anywhere else on this LP.
SOUNDCLOUD: https://soundcloud.com/djfenix/sets/fenix-sm1lo-where-we-begin-feat-llexa
House fans will probably enjoy Where We Begin a bit more than traditional EDM buffs will, and I say that because of the way that Fenix & SM1LO manage the percussive textures throughout the tracklist. There's a trance-like, mildly psychedelic bend to the "Club Radio Dub Mix," but the energy in its "Radio Edit" counterpart is defined by its house-inspired grooves and anti-pop framework. This collaboration was born out of a mutual respect for good underground club music, and though critics like myself will spend a lot of time trying to categorize it this summer, the reality is that it's a lot more transcendent a release than most genre parameters would allow normally for.
Fenix's furious masterwork and SM1LO's simple stylization of over the top swing rhythms are combined in a true album for the ages on Where We Begin, and I can say with confidence that despite the lag in electronic output this year, this is unequivocally an LP that fans of electropop, house and experimental music alike will want to add to their personal collection this season. It's a collaboration that doesn't waste the skills that any of its participants bring into work with them, and moreover, it's simply a fun listen for summer club-goers of all tastes.
Gwen Waggoner