In his latest single and music video, the fuzz-frenzied "Are You Happy (Radio Mix)," Av Super Sunshine belts out the lyrics with an illustrious croon that has become a sort of calling card in his music, but there's a stronger depth of emotion present in his vocal here than there is in anything else on the album Candyland, Vol. 1. AV is getting raw and real with us in "Are You Happy (Radio Mix)," revealing a side of his personality that he'd kept somewhat concealed in previous outings, and pounding out some gorgeous grooves that I think EDM, rock, pop and alternative buffs are going to be talking about all summer long.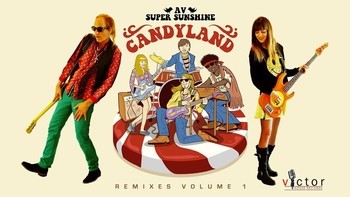 The urgency in the tempo here is met with a frustrating restraint in the bassline, but the resulting contrast in the rhythm doesn't create a sense of fragmentation in the beats. AV uses a really streamlined mix in this single, arguably more so than he did in the "club" version of "Are You Happy," and it serves to smooth out the rougher corners in the composition quite exceptionally. The pace of the video runs in perfect cadence with the grooves in the song, and that definitely adds a bit more consistency to the overall product.
SPOTIFY: https://open.spotify.com/album/6lPMZ0Rv4bmG1IjXwZJMxF
AV's vocal is sleek and chic in "Are You Happy (Radio Mix)," but like the ferocious flow of music, it isn't lacking in ear-catching textures at all whatsoever. Every one of the songs on Candyland, Vol. 1 has an acrylic finish, but this single might be the most moving for me personally. The video doesn't go soft with its abstract animations, but it's hard for me to imagine being quite as impressed by it with a different song in the background. They're custom-made for each other, and probably rep the identity that AV Super Sunshine has fashioned for himself better than most anything else could have right now.
I would have made the EQ on the guitar parts a little more scooped, but it isn't difficult to see why this artist didn't make the same decision. In the last twenty years, eliminating the midrange depth in an electric guitar riff has been standard procedure for rock and metal groups from one side of the Atlantic to the next, which is likely the precise reason why AV wouldn't want to implement the same approach to the strings he utilizes in "Are You Happy (Radio Mix)." This guy is all about going against the grain, and though they give off an unconventional tonality, the riffs in this track are still among the juicier elements for us to enjoy.
After the success of records like Bass Face and the recent Candyland, Vol. 1, AV Super Sunshine is wowing critics once more with this new music video and single, and based on the evidence that it lays out for us in roughly four minutes of play, I would have to say that slowing down is not something that I can see him doing anytime soon. "Are You Happy (Radio Mix)" is a deep-thinking groove marathon that doesn't play by any of the rules we thought we'd become well-versed in with Bass Face Remixes; its lead singer isn't done expanding his horizons, and this track tangibly proves as much.
Gwen Waggoner