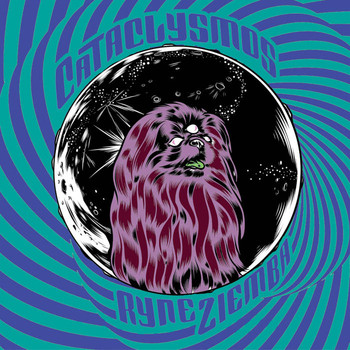 There is almost no describing Ryne Ziemba's new Cataclysmos LP without going in depth about the songs, as it comes recommended for its twelve very well crafted synth pop tunes which nail it in every department Ryne Ziemba's is good for, guitar, vocals, keyboards, effects and production being a lot to handle for one artist. But this album has a lot of moxie from one end to the other. This album immediately begs the question of what a third release from Ziemba is going to sound like.

"Trying Not To Try" starts out with a Rod Stewart song title in the lyric, assuming it was written by Stewart, but it's a love song and it's really neither here nor there if Ziemba even knows it. What matters is the atmosphere of the number with a lot of trippy guitar playing that harkens back to the late eighties dance clubs, leaving it somewhere between the romantic and gothic flavors. "Lazy Boy Style" is a lot more modern but the overall thread doesn't change, and the album continues to consistently deliver the same level of songwriting, singing and playing.

"Spirit Of The Raptor" is a fantastic esoteric number with everything going for it Zambia seems to posses throughout the LP, but the difference is placed within one stand out song. Not to say the record is built around it, but anyone would want a whole stack of songs like this to exemplify how good they are. It's compelling, it's interesting, it's hypnotic, it's mystical, it's all-of the above and more. "Love In Asylum" is nearly as good as well, almost done in two-part fashion because of the unison impact of the two great numbers.
SPOTIFY: https://open.spotify.com/album/1agRqDgDWcTNOVDNo4Xiw0
The amount of guitar work starts to come on stronger at this point and that is also where it gets undeniably awesome as he gets into "Message" for yet another twist with more of a shuffle style moment. But that guitar bite never lets up and this one also gets very heavy in the drum department, with Ziemba also showing both punk rock and anyone's guess could be anyone from Peter Gabriel and Pink Floyd influences on the same coin, which is really nothing new.

"The Hook" combines some of the mentioned factors with some of the most impressive vocals and it's one of the more enjoyable mid-tempo tracks, and it even reminds of bands like The Church. "Ride The Tide" is probably my third favorite track, the other two having already been mentioned. This is where the songwriting comes second to none and the overall enjoyment LP is at its full peak, but it's also followed by the very Beatles-ish "Miracle Cure" with easily one of the best vocals by Ryne Ziemba.

"Stand On Your Own" and "Lick Your Face" take the album out in standard fashion, but not before the magnificent "Searching For" slips itself in-between them, and that's where another great run of variety gets placed into the picture. And I rate the vocals above all to be found on Cataclysmos, a fine sophomore release from a gifted musician.

Larry Toering