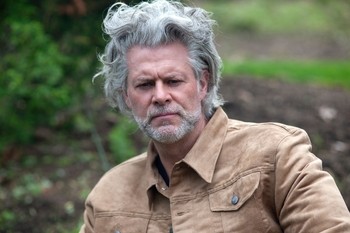 Barrett Martin Group and the new release, 'Songs Of The Firebird', are soaring high with the band and album hitting all the right notes. This is a double album that contains 20 incredible instrumentals and also serves as a direct soundtrack to Barrett Martin's new book, "The Way Of The Zen Cowboy". The book is a collection of short stories by Barrett Martin that is published under Sunyata Books and 'Songs Of The Firebird' is released by Sony Entertainment. This is my second instrumental album review in a row and couldn't be happier because these are some of my favorite records to listen to and critique.
Barrett Martin is a Latin Grammy-winning percussionist, composer, producer, and writer who has over 100 albums and film soundtracks credited to his name. Martin's music history as a drummer/percussionist stems back to the early 90s in which he worked on various classic albums for bands such as: REM, Queens of the Stone Age, Mad Season, Screaming Trees, Tuatara and many others. As a composer and band leader, Barrett's instrumental music has been included in several films and television shows and as a writer/essayist, Martin's stories have found their way into the pages of: The Huffington Post, Riot Material and others. Obviously, Barrett Martin is an accomplished musician/artist with a vast musical background and so I can't wait to dive into 'Songs Of The Firebird'!
This new album is produced by Barrett Martin and features some of the top jazz players from Seattle along with three special guests: Wayne Horvitz (New York legend), Peter Buck (guitarist for REM) and Kim Thayil (guitarist for Soundgarden). The record incorporates elements of modern Jazz, Afro-Latin rhythms, ambient soundscapes and electronic music. All together, 'Songs Of The Firebird' is spreading its wings wide with 20 colorful compositions leading the way. The album starts up with a jazzy, cool persuasion that sweeps over you on "There Is A Galaxy In Your Heart" where the listener will be hit with an enticing and satisfying rhythm & superb instrumentation. The pleasing rhythms and fine-tuned playing are reoccurring themes throughout the whole 20-song set. Get ready to salsify the room with "Peruvian Dancer" that will have you toe-tappin' to this spicy number. In the words of the late, great David Bowie: "Let's Dance"! Prepare for a catchy, uptempo beat on track three, "Drum & Basie", and then receive an infectious groove that will have you wondering what's hovering around the corner on "Dark Wing". Experience an exotic tone with a calm & cleansing feel on "The Greatest Smile In The City" and then immerse yourself with many different flavors hitting you all at once on "Down In The Streets (feat. Wayne Horvitz). Next, Barrett Martin Group is keepin' you on your toes with "A Magnificent Seven" and then the group slows things down a bit and gets all warm & cozy on "Alas, Thy Departed Love". Track nine, "When The People Rise", has just the right move for the right groove and just an overall fun ride and jam session. "The Firebird (feat. Kim Thayil)" offers a smooth impact with notes that hit hard while track 12, "Cut & Thrust", does just that by slicing through and pushing full steam ahead. Following along, "Dance Of The Blue Moon" shines and sparkles while "Mantra Electronica (feat. Wayne Horvitz)" portrays a spacey, futuristic scene. Song 15, "Cascadia", supplies a dramatic effect whereas track 16, "The Balance", glides along gracefully like a train calmly traveling through the quiet, country side. "Resolution" is the answer to put you in just the right mood with a burst of excitement rushing over you while "Requiem (feat. Kim Thayil)" contains a strong, mighty presence with distinct, memorable riffs. Barrett Martin Group closes out the double album with a super sensitive approach and delicate finish that is fine as wine on "The Shimmer Of The Glimmer".
In the end, I am so impressed by the performance from all musicians on this record as the instrumentation is off the charts. As a former alto sax player myself, I have a strong connection to this influential instrument and can add that the sax melody was heard loud & clear and simply on fire on 'Songs Of The Firebird'. Thank you to my former jazz/symphonic band teacher, Robert Dubinski known as "Dubie", who helped me grow an immense appreciation for the woodwind instrument as he just recently retired after 33 years as Band Director for Bloomington High School South. Barrett Martin Group allowed the saxophone to stand out on 'Songs Of The Firebird', so here's to the band, here's to the shiny sax and here's to "Dubie"; CHEERS! The collection of songs on this new release are impeccable and now I can't wait to get my hands on the accompanying book, "The Way Of The Zen Cowboy" that I'm sure is an excellent read and perfect companion to 'Songs Of The Firebird'.
You can catch Barrett Martin Group at a couple of upcoming shows out West:
Portland, OR – Saturday, June 8th @ Jack London Revue
Seattle, WA – Saturday, June 1st @ The Royal Room.
Barrett Martin group should be flying high after completing this project because the double album is one complete and successful flight from beginning to end.
https://barrettmartin.com/music/
https://www.facebook.com/BarrettMartinOfficial
By Jimmy Rae (https://twitter.com/2JRae)