A warm melodic drawl awakens a provocative set of strings in "Nothing Between Us," the first track in Sour Bridges' Neon Headed Fool, and quickly takes us into a cascading groove that is as exotic as it is tempered in a familiar bluegrass sway. The rhythm is righteous and the harmonies heaven-sent, and as the song reaches its cathartic fever pitch, we slip into the blue-collar "Scrapyard Boys," which wastes no time before slinging a contagious beat varnished in country swing in our direction. Neon Headed Fool isn't a concept album, but it's got a fluidity that we rarely see outside of progressive rock, making it a record that is overwhelmingly hard to put down once it's been picked up for the first time.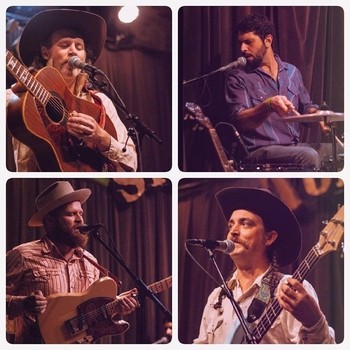 "Boot Healer" finds its stride in a vibrant rhythm that frames a smoky lead vocal and fleeting fiddle melody. The essence of the track isn't that much different than that of "You Don't Know," but the latter song is a much more optimistic composition from a lyrical standpoint. "You Don't Know" sets the stage for a mischievous "Dusty Waters," one of my favorite songs from the record, but its contribution to the tracklist isn't limited to that of a bridge piece exclusively. Every one of these songs introduces us to a different layer within the artistry of the band, and the diversity of the styles in play here are legitimate reflections of the musicians who are committing them to master tape. Everything is tightly mixed, but we never feel as though we're listening to a basic studio recording by any stretch of imagination.
URL: https://www.sourbridgesmusic.com/
"Do Ya" is the most vocal-centric song on the LP, but it isn't devoid of a potent instrumental backdrop, upon which is paints an evocative portrait inside of two and a half minutes of play. "Tarmac" is a bit more reserved and conservative in tone, and it helps to center the second act of Neon Headed Fool without changing the trajectory of the album's mood. With "Headin' Out West," Sour Bridges adopt a folky style that they wear remarkably well, and even if it isn't the poignant slab of bucolic poetry that "Ozona Breakdown" is, it still plays an important part in the expression of the record's deeper narrative.
Neon Headed Fool comes to a conclusion in "If You See Me," which I found to be the most experimental of all the songs that the LP contains. The vocal is as sweet as honey, but there's an underlying ache in its relationship with the backing band that adds to its weighty words, giving it an engaging resonance that I haven't been able to get enough of in the last week. Sour Bridges have made some really awesome music in the past, and while their latest album doesn't attempt to change the world, it definitely exploits the group's skillset more than anything that they've released previously has. It's a winner in my book, and if you give it the same chance to spellbind you with its melodic moxie as I did, I think you're going to feel the same.
Gwen Waggoner