TWITTER: https://twitter.com/mati_lyons
If you've been following the underground beat lately, you've possibly heard a little about Mati Lyons, the up and coming pop singer whose new single "Practice 4 Me" has got critics around the country abuzz at the moment. "Practice 4 Me" is a multilayered R&B song that possesses the heart of a jazz ballad and the soul of a hip-hop freestyle, and despite its boundless intricacies and lofty stylization, it isn't even the least bit inaccessible to both casual pop fans and more serious connoisseurs alike. Mati Lyons is entering a white-hot scene primed for big things in the 2020s, but she definitely seems to have the right combination of melody and moxie to become a legit contender if provided the best of circumstances.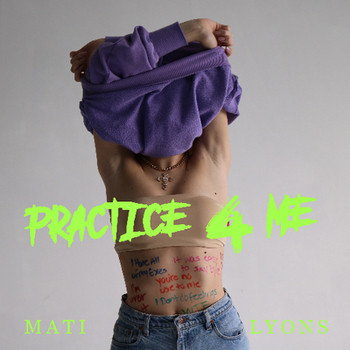 There's a litany of boisterous bass parts that drive the center of "Practice 4 Me," but much to my delight, they aren't muscular to the degree of shaking the stereo speakers in an inarguably needless show of sonic strength. Lyons doesn't play the standard pop games with us in this song; instead of using the bassline as a guide for her grooves, she applies her melodic vocal to it as a painter would add color to a blank canvas. It's stirring, and more prominently, chill-inducing from the get-go.
The lyrics are cutting and uncompromisingly self-assured, following a trend that I've noticed in the last two years among female pop vocalists. Like her peers, Mati Lyons isn't beholden to the barriers that once stood before the generation that preceded her; in fact, she makes a point of delivering a passionate prose here that is more straightforward than it is surreal. She's blunt, cunning and unafraid of an enormous hook, even when it's bearing down on her with the intensity of a stampeding band of horses. I can only imagine how good she would be on stage, with the benefit of a roaring crowd's very presence to feed off of.
One element that I might have toyed with in this single would have been the mix, which favors the middle a bit more than it does the bass or the treble, but I can understand why Lyons would want to go with this type of a formula. With the instrumental grind being kept to the background, she's got all this room to spread out in the buildup to the chorus, and Lyons makes sure to utilize every inch of space that she can get in a successful effort to keep us on the edge of our seats from beginning to end.
I'm very excited to see what Mati Lyons submits from her forthcoming recording sessions as she works to follow-up on "Practice 4 Me." With the palate that she's got, making vocal-driven music in the vein of acapella or even experimental soul shouldn't be ruled out, and I would even say that she's got a depth of emotion in her lyrics that, without anything else being taken into consideration, qualifies her as one of the more important artists to watch as we approach the next decade in popular music. I'll be following her story as it unfolds, and once you've let "Practice 4 Me" lay its long, sharp hooks into you, I think you will want to as well.
SOUNDCLOUD: https://soundcloud.com/mati-lyons
Gwen Waggoner
The music of MATI LYONS has been heard all over the world due to the radio plugging services offered by Musik Radio Promotions. Learn more – https://musikandfilm.com