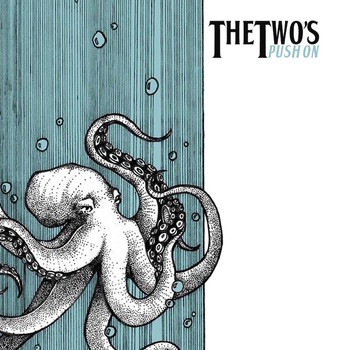 The Two's, a duo comprised of Ruby Rendrag and Suki Kuehn, create unusual, but unusually beautiful, pop music. Rendrag sings and plays guitar, while Kuehn contributes cello. "Lullaby" is a single that deftly combines these unusual elements into a memorable tune.
Kuehn's cello provides this tracks rhythm. No, there's no thumping bass, nor shuffling drum pattern here. This unlikely bottom end provides something closer to chamber pop, than typical pop music. It's not entirely classically stylized, though, because Kuehn's rhythmic playing sets the groove for Rendrag's singing part.
The song's lyric is a little psychedelic, yet childlike in imagery. It's also not truly a lullaby. With Kuehn's bowing rhythm, it's fast paced and beat-driven. The purpose of lullabies – and lullabies do have a purpose – is to aid in little ones going to sleep. In fact, Rendrag sings, "Don't go to sleep, little one," which is – unless you're attempting some kind of reverse psychology – not the right bedtime approach. The urgency in Kuehn's playing will likely make young ones more awake, rather than the desired opposite.
The Two's' musical experience is as unusual as the music these two create. Rendrag is a part of the New Orleans music world. She's performed as both a solo act, and a side musician. She's also the owner of NOLA Muse, where her duties revolve around helping acts – whether, international, national or local – create recorded projects. Kuehn was born in Japan but settled in New Orleans after being in the Navy.
Rendrag's vocal is dreamy and far away sounding. In fact, she's the one that sounds to be in a dreamworld, not the object of her song. Her singing plays off Kuehn's playing. In fact, she matches her singing parts with Kuehn like a rock singer plays off a lead guitarist. It's a lot like a rock & roll arrangement, except the instrumentation sounds to be drawn from the philharmonic, rather than somebody's garage band.
Although this is an American made single, it may remind you of the Beatles "Eleonor Rigby" (for that track's string quartet), as well as other Beatles songs that incorporate strings. There was a time when including stings onto a rock & roll song was anathema because it was referred to as sweetening. It took away some of the music's natural sting, some have said. The Beatles made it cool to utilize strings, though, and other acts have followed suit over the years. This track may include cello sounds, but the overall feel of it is beat-heavy, like rock & roll.
While it would not be recommended to put little Junior to sleep with this song, it is perfectly appropriate for his parents to stay up late listening to it. After all, maybe its title is just for irony's sake. It's a little spooky and slightly loud, and a fish out of water among other lullabies. It's a cool, twisted tale that will appeal to anyone with creative musical taste.
The Two's comprise an unusual duo. They're not singing partners, but are, instead, creative partners in sonic creation. This song will keep you awake for all the right reasons.
-Dan MacIntosh