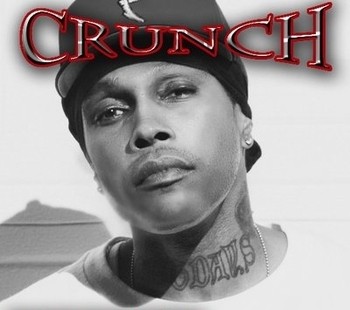 Okay here we are – half way to Memorial Day weekend in the USA – we are so excited to kick off summer 2019. Today we are joined by a fierce artist / emcee / entrepreneur from LA – Crunch. This man is busy as he preps to take his new single 'I'm Go'wd' to the top of your summer playlist. He has so much going on in general so we figured why not chat with Crunch about things like the assassination of Nipsey Hussle, standing out in the age of saturation, his love for boxing, and much more!
@skopemag: Where are we talking from today and what are your plans for summer 2019?
From Los Angeles California. My plans for summer 2019 are to push my single I'm Go'wd so that it becomes a summer hit.
@skopemag: When did you take to music as a passion and when did you want it as a career?
At ten years old I was already taking my music serious, and wanted it to be my life.
@skopemag: How did you get your catchy alias – Crunch?
I got my name at around 12 years old. Me and some friends that were rappers were coming up with names for ourselves at school at lunchtime. One of my friends said he was gonna call his self Crunch, but he said he changed his mind. When I heard the name, I said that's me. So I've been Crunch every since.
@skopemag: With the ease for artists to put out content via socials and streaming, how do you stand out?
I stand out by being myself while others are being 2Pac, I'm a lyricist and we don't have many lyricist any more. People want to here lyricist and content they can actually feel.
@skopemag: Would you say that your friends / family support your musical ambitions?
Yeah, they do now once they saw me perform live when I opened up on The Burn Up The South Tour for 4×s platinum artist Juvenile. They understood why I grind so hard with the music and never stop going hard to be a success. Now they know that I have what it takes to be a very successful artist.
@skopemag: What music platform do you feel helps you grow and sustain fans/followers?
I think radio is the strongest platform to gain a substantial audience. Live performances are a must, so you get up close and personal with the people. Then YouTube and other social media.
@skopemag: Really feeling your new single – 'I'm Go'wd.' Give us the scene of you in the studio and how the lyrics and instrumentals came together?
Stream – http://www.reverbnation.com/open_graph/song/28323873?pwc%5Bbranded%5D=1
A producer out of Michigan named Tristan heard my music on social media and emailed me the track. I was feeling the track so I played it back a few times to see what subject and what vibe the track was calling for. So I felt it was calling for a turnt up lyrical story.
@skopemag: If you were to do a video what would that look like?
When I shoot this video it will be a definite turn up club video with girls dancing seductively and I would be the only dude in the video, on stage rapping and on the floor in the mix with the ladies.
@skopemag: What % of what you speak on in your music is based on your real life?
100% of what I say is based on my real life. For instance in I'm Go'wd I have a line where I say "I got friends on Mars living large", I say that because I have friends that are mega stars in entertainment. 2Pac rest in peace, as a teenager I was his photo double in Poetic Jucstice and Abouve The Rim. I have cameo appearances in his music videos I Get Around, Keep Your Head Up, and Holla If You Hear me. I am fetured in the documentary Resurrection, Guy Oseary Madonna's manager, radio personality Big Boy on the Real 92.3 in Los Angeles, Beth Hart a Grammy nominated blues rock artist that has performed for Obama and Michelle.
@skopemag: What did the murder of Nipsey Hussle teach you if anything at all?
Nips murder taught me that when your of a certain status you have to move more cautiously and you can't always be around the people your trying to help. You can help but sort of from a distance or a safer more cautious manner.
@skopemag: When you are not making music what else do you have going on?
When I'm not making music I'm in the Boxing gym training, I'm a boxer making the transition from amateur to professional.
@skopemag: What are you looking to accomplish for the rest of 2019 and how what are your socials @?
For 2019 I'm looking to be known in households nation wide. I'm looking to be the face of Crunch, Nestle Crunch, Crunch bar, Captain Crunch, Crunch N Munch and so on.
https://Facebook.com/crunchwhite
https://Instagram.com/crunch_infinite