Simmering out of the silence, a synthesizer crashes through the speakers like a cathartic tidal wave and oozes with epic tonality. The rhythm is gentle, but the music that it is framing is anything but timid. We're in the clutches of Scarlett Deva's new single "In da Couch," which might have a somewhat comical title but contains a melodicism that is the antithesis of the amateurish fodder we've seen so much of in the last few months among underground artists in their genre. Layer upon layer of harmonic chaos is thrust upon us as we wade through the angelic sonic waves, and while there's an unspoken connection between the lyrics and the music, they're separate forces of energy in this track that deserve to be broken down individually.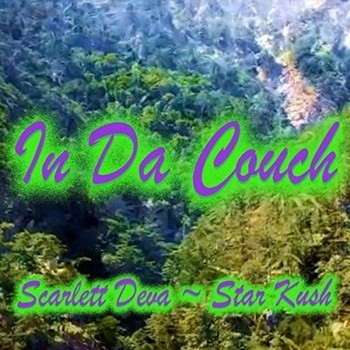 Let's address the instrumental side of "In da Couch" first. The synths are the crown jewel of this track, but there's a lovely piano part that accompanies the radiant percussion in the background and powerfully directs the mood of the melodies that the synthesizers emit. It's not the most meticulous mixing that I've heard in my life, and although that might be an issue for other songs that toy with ambient qualities as much as this one does, it doesn't yield any production hiccups in this single. There's something really moving about the formless tone of the rhythm here that has brought me back to "In da Couch" time after time in preparing my notes for this review, and try as I might, I don't know that I'll ever fully decipher why it's as alluring as it is.
Lyrically, Scarlett Deva discusses something that she's got some personal experience with in this track – medical marijuana. As a consulting physician for over fourteen thousand patients suffering from a variety of ailments over the years, Deva spent three years fusing the healing properties of music and Mary Jane together before penning "In da Couch," and her background undoubtedly gives her a boost over many of her peers who haven't become as versed in the relationship between the two elements (myself not included). She's poetically espousing the story of an indica god in this single, and though you won't hear any crushing Palm Desert-style riffing here, it's as stony an ambient track as anything you might have expected to hear.
I haven't heard enough of Scarlett Deva's work to understand her as an artist yet, but based on what I'm hearing in "In da Couch," I think that there isn't much of a debate as to whether or not she's got a legitimate future ahead of her as a recording artist. For this being a rookie release, she doesn't sound like a virgin to the studio who has never had to wrestle with the pressures of cutting a professional-grade single for the very first time. On the contrary, she's got the swagger of a seasoned pro and the relaxed attitude of a sage beat poet, and if even a portion of the presence that she's got in "In da Couch" translates well to the stage environment, then her show will be one heck of a live act once she takes this material out on the road with her.
CD BABY: https://store.cdbaby.com/cd/scarlettdeva
Gwen Waggoner