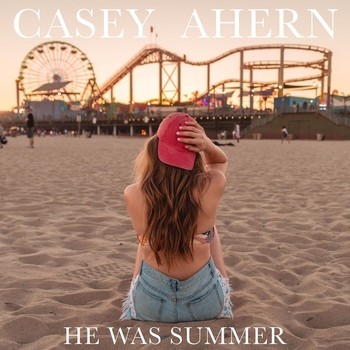 URL: https://www.caseyahern.com/
California country is given the celebration it deserves in Casey Ahern's brand new EP He Was Summer, which was released last year to critical acclaim and has already got audiences demanding more from the fledging singer/songwriter. Casey Ahern's devotion to the Golden State sound is realized in full color on He Was Summer, arriving to us in the form of Bakersfield ballads "Like I Do" and "Take Me by the Hand," as well as freewheeling bohemian songcraft ala "Indio" and straight up acoustic pop patriotism in the song bearing the record's name. The last couple of years have been an incredible time for country music, and for this SoCal songwriter, the next chapter of the story is going to be set out west on a gilded coastline she's always called home.
"Take Me by the Hand" and "Indio" are two of the more focused songs on He Was Summer from a lyrical standpoint, relying on their prose to generate a vibe for the music to chase after. In the case of "He Was Summer," texture is more the focal point than the actual substance of the lyrics, though words are never an afterthought in any of the songs here. The contrast between the tracks adds a diversity to the EP that is profoundly different from what most records of this limiting size have to offer. Ahern uses every inch of sonic space she's afforded here, and listeners are able to indulge in the virtuosity of her songwriting without feeling like this is only a sample of her talents.
SPOTIFY: https://open.spotify.com/album/4dDZ87X5um9jiXsBfVaIGb
Even in piano-driven ballads like "Like I Do," the guitars are just as much of a star in this EP as Ahern's singing is, adding a tortured moodiness to the music that simply wouldn't be there otherwise. Frankly, I view the strings as somewhat of a backing vocalist in these songs; "Indio" sees them echoing every syllable that Ahern utters, while in "Take Me by the Hand" and the title track, they contribute a duality that is both conflicting and provocative at the same time. The music never feels like a backing track in any portion of He Was Summer, and without a doubt the guitar play here stands out as the linchpin of the entire instrumental setup. In this sense, Ahern has a little bit of rock n' roll blood that finds its way into the spotlight on this EP even amidst all of the country pleasantries.
She's got plenty of time and room left to grow and develop her sound a bit more than she already has, but from top to bottom there's no denying that Casey Ahern is a phenomenal talent who hasn't got any trouble expressing herself concisely in the studio. The true test of her skills will be taking these songs out on the road and getting a response from country strongholds around the States, but I don't think that Ahern is going to have any difficulties finding her audience in this current musical climate. Country's renaissance is finally getting the California representation that it needed to feel complete, and that representation is coming to us through the music of this relentlessly sweet up-and-coming star.
INSTAGRAM: https://www.instagram.com/casey_Ahern/
Gwen Waggoner