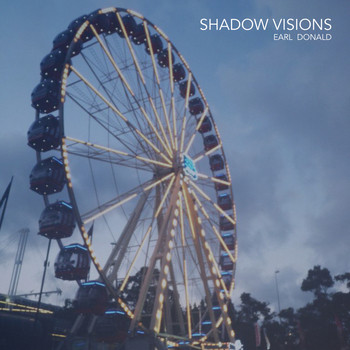 Earl Donald sounds like a guy's name and could, in reality, be some man's actual name. However, 'he' is actually the name for multi-instrumentalist/producer James Cuvilier's project. His bio claims Cuvilier is from the "streets of Toronto," but anybody who's ever visited Toronto and contrasted it with real "streets," knows well there are no bad streets in Toronto. That said, though, Cuvilier is originally from Edmonton, where he made a name for himself with many indie and punk bands. The single "Shadow Visions," however, reveals an entirely different side to Cuvilier's musical personality.
Described as laidback minimalist electronic music, "Shadow Visions" is a singer's song, if that term makes any sense. It's slightly jazzy, and a long way from typical EDM sounds. Drawn from the EP Where You Know Yourself, the song's chorus celebrates getting far away from a town.
The track begins with a female voice singing the chorus – or at least a voice treated to sound like a female singing. The groove is slow, and – well — laidback. Before long, what sounds like a jazzy trumpet enters the mix. It's almost as though a crooner from the past got lost and wound up fronting an electronic music artist. The vocal is a relatively easygoing one.
Lyrically, the song retains some degree of tension. It's as though the singer is describing how far the relationship has moved from where it first started. One might make the case that the 'away from this town' lyrical line is an allegory for how the relationship has drifted from its roots. One might also surmise that 'this town' stands for the circumstances that have caused the separation in a relationship. You can go way back to blues songs, like "Bright Lights, Big City," to find examples of where big city life has been blamed for hurting relationships. Perhaps, this song is yet one more example in a long line of such songs.
In addition to the female backing vocals, there is also a male lead vocal. This singing is unusual. The lead vocal is nasal-y, to the extreme. It's as though the singer doesn't even care that he's singing through his nose. Some people don't appreciate this sort of vocalizing. It's not the way vocal coaches train singers to sing, that's for sure. One most hears this type of nasal singing in country music. In fact, it's that factor that makes some people particularly despise country music. Ah, but there's nothing at all country on this track.
The song's melody is bright, even though the lyrics are especially sad. It's an odd juxtaposition. It may cause a little cognitive dissonance because you may be happily humming along with a song that makes you sad. The track incorporates some welcome percussion variation, although there aren't a lot of melodic dynamics on it.
"Shadow Visions," a title that doesn't work its way into the song's lyrics, is an unusual and moody little piece of music. It exemplifies the growth and maturation of electronic music, in that that style isn't always about thumping, 4/4 disco beats. No, electronic elements can also be used for slightly retro sounding pop songs, like this one. It has vision, indeed.
-Dan MacIntosh