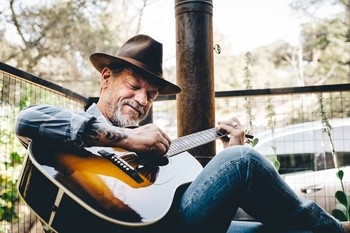 Ray William Roldan aka R.W. Roldan is one passionate & genuine singer/songwriter who wears his heart on his sleeve. Perfect example would be Roldan's upcoming album titled 'Can You Feel This' that is all about tapping into human emotions. Ray William Roldan writes and records songs that have true meaning and substance. Just like Peter Frampton asked the question "Do You Feel Like We Do", R.W. Roldan wants you to feel every inch of the music.
J Rae: Excited to hear that you're releasing a new album titled 'Can You Feel This' and wonder if you're able to tell the Skope readers when this record will be released and what can listeners expect to hear?
Ray William Roldan:We are hoping to release in June of this year. I'm in negotiations with All's Well Records as they are adding me to their roster of artists and we're working on some new videos and a promotional program. The album is going to vinyl as I write this.
J Rae: "The Color Of" is the second release off of the upcoming album 'Can You Feel This' and wonder if you could take the viewers on a ride through this video/song explaining what it's all about?
Ray William Roldan: Well, I've spent a good part of my life working with and knowing folks of all cultures, ethnicities, philosophical and religious backgrounds and I've concluded that a person's skin color doesn't have a damn thing to do with their good or bad deeds. Many of the best, hardest working, family loving and God fearing people I've known have been of color.
And I'm sick of some folks who use lies about others to manipulate others for their own personal gain. Evolution begins with an open heart and an open mind. I believe that  this great country definitely should hold criminals accountable once they've been judged and guilty of malice acts and deeds, in spite of their color, culture or beliefs but not because of  their skin color or cultural and religious beliefs.
So I wrote this song and made this simple video to express what I believe. I understand and agree that every person has a right to their beliefs, unless those beliefs bring unjust harm to other folk whom have the same God given rights.
And by the way I do believe that Laws, including immigration laws are there to protect everyone and should be abided by.
J Rae: I know, firsthand, that you're a very personal/sincere songwriter and obviously "The Color Of" is not about your favorite color or the mechanics of ROYGBIV. :) But just for fun what is your favorite color by chance?
Ray William Roldan: I'm partial to the color green as it's such a big part of nature though my wife looks great in red.
J Rae: You have described your music/sound as "Americana roots rock/alt country" and I was hoping you could break this down for us piece by piece. What inspires you to write and record this style of music?
Ray William Roldan: Well, I was raised on Rock and Roll and at an early point in my life discovered Blues and that led me to Hank Williams and the founders of country and folk music. I'm a bit of a story teller and Americana truly encompasses all of the above. I love Americana because it crosses many boundaries. There's a kind of adventure in artistically crossing boundaries.
J Rae: I read on your page that 'Can You Feel This' is your very first album recorded under your own name. How does that feel to you personally and why now?
Ray William Roldan:Well, my name has always been connected to my music but I've used band names in the past to anchor things. I've decided it's time to stand with my songs as opposed to behind them. I go by RW Roldan as it's a bit more compact.
J Rae: You have played with the bands Swing Samurai and Broke Fence and was hoping you could talk about your previous history with these groups. How did playing with these bands, in particular, help shape you into the artist, singer/songwriter you are at this exact moment in time?
Ray William Roldan: I've been very fortunate to work with some amazing artists whom I believe have helped to elevate my abilities to a level that I can now start to give my audience what they deserve and what I feel is in my artistic heart.
I've spent a good deal of my time as a recording artist learning the craft and now with my 4th Album, I'm finally beginning to feel I own what I do and therefore can show folks honestly what I have to give them.
It's been a real journey trying to get what I heard and felt in my head and heart to a place where I can share it. Every person I've worked with has helped in that endeavor.
J Rae: I noticed that you have had other jobs in the past such as being an auto mechanic, tool and die designer in the aerospace industry and owner of a construction business. Where did these specific interests stem from and are you still involved with the above professions in any way, shape or form?
Ray William Roldan: I'm a guy who has learned to adapt to many situations in order to survive. I've always been an artist but I've also always felt my family's survival should come first. Fixing a car or building is something that was always easy for me as I'm a mechanic down to my soul. I learned that those things I did were still very creative and were all a setup to what I am and do artistically today.
I've also got a bit of A.D.D. which for me means I need to have my attention in many areas in order to get anything done. Ha Ha! but it's true, though very aggravating to folks around me.
I come from a meager childhood, started working to help my family at the age of 10 and joined the NAVY on my 17th birthday. I've always had to adapt, but art and creativity were always my foundation.
J Rae: You discussed with me that you're also collaborating with some great musicians on music for another album, licensing, etc. and that you're in talks with a new music label. This all sounds wonderful, but would you care to delve more into these exciting, business ventures for the Skope Universe? Can you give us the inside Scoop?
Ray William Roldan: I'm trying to keep things under wraps until the ink dries and the works get in the can but I am writing with my friends Eamon Ryland, Max Allen and others,. I've been in a video for the band Oswald which I believe will be released soon and we're starting to film for a video which will feature my song "Wyatt Earp". I've gotten some licensing deals recently and my wife and I bought a 100 year old home in Silver Lake which I've been working on at the same time. I'm gonna build a composing studio there to give writers a cool and viby place to do co-writes.
J Rae: You said yourself that 'Can You Feel This' "takes my songwriting and overall artistry to a whole new level." I am very intrigued myself and I bet that the Skope readers are wanting to know more as well. What is it about this new project that stands out from your previous work?
Ray William Roldan: Well first of all, this album was inspired by my wife and very long time muse Lauryn.
I reconnected with her after many years but as my first true love (we were teens).
I've always had her in my heart for inspiration. Four years ago I moved up into the very magical hills of Topanga, Ca. where she has lived for many years and I've written and created constantly. And she introduced me to many creative people including Max Allen of Outpost Recording with whom I created this new album. Lauryn and I were married two years ago, but I originally asked her to marry me about 38 years ago. I was definitely not marriage material at 19 though, but I waited and it paid off.
I'm finally at a point where I can write, record and perform songs that I want folks to feel!
Thus the album title 'Can You Feel This'.
J Rae: I like to end on a positive note and so I wonder if 'Can You Feel This' is able to lift the spirits of people. With plenty of negative vibes to go around through media outlets and bad attitudes, how can Ray Roldan and your daily dose of music help put a positive spin on life and help put matters in perspective?
Ray William Roldan: I believe most folks choose what they want in their lives including positivity. I came from a very rough place and sometimes I felt sorry for myself which did nothing to change anything for the better. When I realized that life was what I made of it, many things changed for the better.
This world is full of a hell of a lot more good than bad and when you learn that, the sun shines a lot more. I hope folks can relate to my journey when they listen to my songs and I hope that they can realize every one of us is on this journey together. My art is what I choose to give to the other souls on this journey and If they dig what I'm doing, great! if not, that's cool too.
It's all about the voyage.
Cheers Y'all, RW Roldan
Site – http://www.rwroldan.com/
By Jimmy Rae (https://twitter.com/2JRae)