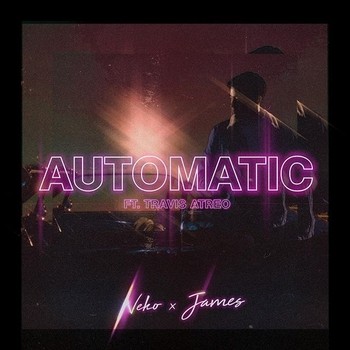 Rising from the silence like the first rays of a morning sunlight creeping over the horizon, a dangerously mischievous bass comes storming into the fold in the first few moments of Neko X James' "Automatic," which is available everywhere that independent music is sold and streamed this March 29th. In the distance, snapping fingers start a beat that the bass will slither around like a snake preparing to go in for the kill. A few shades of glowing melodicism start to peek through the wall of low-end tonality that is forming in the backdrop, but they're given an easy avenue into our hearts once Travis Atreo starts singing. He's trying to convince himself that he doesn't need a nameless other, but the thoughts of this person can't escape his mind.
Atreo's soul is pining for someone who isn't here, but our lead singer isn't alone in his desperation in this song. In synchronicity with his words, the bass echoes his torture around every bend in the tempo, and the percussive grooving starts to sound an awful lot like two beating hearts slowly separating in rhythm. It's almost jazz-like in its construction, but the framework in "Automatic" is actually one of the more understated flashpoints in its grandiosity. The way that the vocals bond to the bassline from the jump is a feat of miraculous proportions unto itself, and considering just how many dance tracks of similar ambitions have failed to produce the same results as Neko X James and Travis Atreo do in this single, it's no wonder why so many critics have been raving about the song even before its worldwide release.
The chorus is when everything starts to reach a climax in "Automatic," and while the hook is sharp and efficiently stylized for the song that it's serving, I like that it becomes increasingly augmented by the synths as we get closer to the conclusion of the track. Neko X James have led incredible careers on their own, and by some strange scheme in nature, they haven't just found the perfect collaborator in each other, but they've actually developed a really ingenious new strain of pop in this song that is rather difficult to categorize by normal genre standards.
"Automatic" finishes us off in an explosive harmony from Atreo that embeds itself into the swinging synth melodies before evaporating into silence and leaving us tempted to listen to the track all over again. It's a song that's easy to become hypnotized by, and though I haven't been very impressed with a lot of pop music this year, what Neko X James and Travis Atreo did with this single has definitely made me a feel a lot better about what's coming up this season. "Automatic" welcomes us into the studio to witness something that usually happens but once in a generation; the meeting of masterfully artistic minds that share the same love of textured musical muscle and graceful pop grooves. Listeners who pick up this song can expect a treasure chest of sonic wonderment, and I imagine that the next three singles that this collaborative releases will probably be a similar story.
Gwen Waggoner