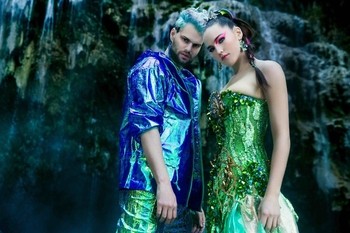 SOFI TUKKER invite you into their "Fantasy" with their new single and video which are the first taste of the next phase of the group following the international success of their debut album Treehouse which culminated in their second GRAMMY nomination, performance at the GRAMMY Awards Premiere Ceremony, and the gold certification of "Best Friend" in the US last month.
In only a few whirlwind years, their music has taken unexpected daredevil turns amassing a passionate fan base across the world moved by the freedom and joy in their songs and their ecstatic live performances. The anthemic "Fantasy" has been an audience favourite at those rapturous live shows. The lyrics and vocal delivery are intimate and introspective revealing a defiant vulnerability that speaks to how SOFI TUKKER have evolved as people and artists since their debut.
Sonically, their egalitarian and global view of music has transcended borders and on "Fantasy" they have achieved a temporal quality by collaging elements of the 90s Euro-pop classics that captivated them with their decidedly modern view of dance music. The group will be giving some more sneak peaks of things to come and the next phase of their work at Coachella, just ahead of their world tour which will take them across five continents.