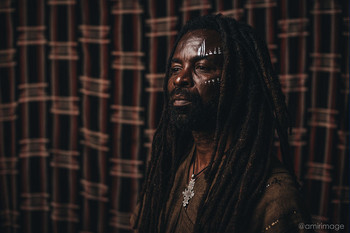 Thirty seconds into the vibrant, gorgeous clip for "Wickedest Sound," Rocky Dawuni shows us the flag for the first time. It flutters in a sea breeze above a wooden fishing boat – red, yellow, and green horizontal stripes and a black star in the middle. Dawuni wants you to know exactly where he's coming from: Ghana, the jewel of West Africa, a thriving, populous, creative coastal country with a long and storied musical tradition. Ghana is the home of Highlife, one of the most widespread and influential genres of African popular music, and it's long been a launching place for pan-African and international musical sensations. Rocky Dawuni is the latest to carry on that tradition of sonic greatness, and in 2015, he became the first Ghanaian to receive a nomination for a GRAMMY Award.
That nod came for Branches Of The Same Tree, his electrifying and internationally successful sixth album, in the Best Reggae Album category. But while Dawuni has an exhaustive knowledge of Reggae and incorporates many elements of the style into his music, don't pigeonhole him as a Reggae artist. His music is a glittering amalgam of influences, including Afrobeat, Highlife, traditional Ghanaian folk, dancehall, jazz, North American soul, R&B, and electropop. He calls his sound "Afro Roots," and there's nothing quite like it. On Beats of Zion, his latest release, he's taken a turn toward the traditional sounds of Ghana and the Caribbean, but synthesizers, electric guitars, and thunderous beats ground the music in the current moment. "Wickedest Sound" features a guest performance from Stonebwoy, a rising star on the global Reggae scene and the 2015 Ghana Artist Of The Year.
Accra, the Ghanaian capital, is one of the most vital cities on the globe: it's an explosion of activity, enterprise, and culture. The city is also the stealth star of Slingshot's clip for "Wickedest Sound." We're shown Accra by day – the bustle of the markets, the kids playing on the piers and chasing down dirt roads, the patios and gardens of the musicians' houses. Accra by night is another story altogether. Slingshot takes us into the clubs of the capital city – where Rocky Dawuni and Stonebwoy are kings, and everybody is invited to their party. By day, the musicians are normal, working-class people doing their jobs; by night, they're superheroes. As a bonus, we're also including the Lex MacCarthy-directed video for "Beats of Zion," the title track of the new album. This one is pure celebration, complete with dazzling cinematography, choreography, traditional African costumes and dance, and plenty of Ghanaian sunshine. "Beats of Zion" is an ecstatic celebration of life and conscious music.