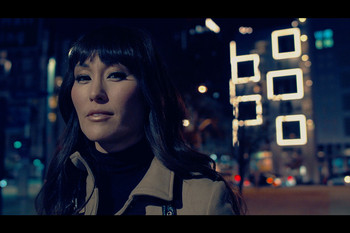 Who is a hero, and where can we find them? Ask Malea, and she'll tell you – "anyone, anywhere can be a hero." In her latest video for "Hero," Malea shows us that sometimes, heroes are right around us. You just have to look for them.
Based in Los Angeles, Malea is a widely talented artist with a passion for her craft. Most known for electronic pop, her singles "Give" and "One Hot Mess" have scaled the Billboard Club charts. Take a listen to "Swept Away," and you'll hear she has roots deep in the confessional singer-songwriter tradition. Oh, and she's also classically trained with a background on Broadway, to boot. She's been recognized in Billboard magazine for her work on and off the stage, regularly helping promote awareness of animal rights and animal foundations. With a desire to inspire change, Malea is ready to not only share her heart but to celebrate those who make the world a better place.
Site – http://www.malea.com/
Malea is no stranger to wearing her own heart on her sleeve when it comes to her songwriting, but this time, she's turned it around: "Hero" is dedicated to lifting up those around her. Sometimes heroes perform truly extraordinary actions, but just as often is seeing something extraordinary in an ordinary action. In the songs' accompanying clip, we see a rancher save a horse from a fire; indigenous people protecting their land; people cleaning trash off a beach, and other individuals and groups being true heroes. Of course, we're also treated to shots of Malea, alternately in busy Downtown Los Angeles and on the charred remains of the Woolsey Fires in Malibu – but the focus here is on those around us that take risks, and work hard, to help the ones who need it.