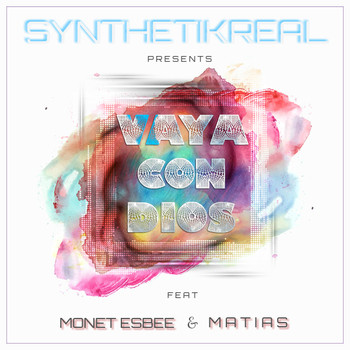 Happy first Monday of March 2019. We are here in snowed in New England. We are so excited to have SynthetikReal here with us. SynthetikReal's debut playlist project features many genre's and artists from around the world, such as Chartel, Ant Brown, Leah Smith, Michael Boykin, and even Dejah Settles! His debut single, "Vaya Con Dios," features Carribean artist, Monet Esbee and Colombian artist, Matias on the vocals. If you want to escape winter like us and listen to music that will get your heart beat up then step inside with – SynthetikReal!
@skopemag: Where are we talking from today and how is your week so far?
S: Right now I'm in Philly, my week has been extremely busy but productive. working on a few projects all at once (gotta take it when you can get it).
@skopemag: Do you get to make music full time or do you also work?
S: I've actually been blessed to do music most of my adult life, which includes the present.
@skopemag: At what stage in life did music become something that you wanted to put all of your talent & ambition into?
S: It started very early for me ,around my late teens is when I started to take it seriously and as a business.
@skopemag: I love your alias, SynthetikReal. How did you come up with that and how does it tie into your music?
S: Synthetkreal came from the result of my love for live instrumentation and the wonders and possibilities of technology. I can't say I love one more than the other, for that reason I embraced both as a part of who I am and what I represent musically. It's ALL in my music .I've been manipulating original live instrumentation and vocals (sometimes being almost unrecognizable) long before it became popular. it was just something that I felt would make my music stand out. I also love synths and drums. it was a no brainer to combine those as well. Iv'e always been the "what's next" guy opposed to a what's happening now creator.
@skopemag: At what point did you decide to go from behind the board as a producer to releasing your new playlist of new music?
S: I decided several years back( when it was not nearly as popular as it is now) but because of a few unexpected life situations it didn't happen when I originally wanted, but everything happens when it's supposed to. I worked with a lot of good artists and thought if I could take the best songs that I've done with each of them and put em on one project it would be crazy. I also believed the exponential possibilities for doing it this way were way greater than the traditional approach of one artist or project at a time. and also the creative control to create and present music the way I envisioned it.
@skopemag: I am loving your new single for "Vaya Con Dios." How did that song come to be and how has the response been?
S: Thank you! The music started out with a simple guitar riff and progressed from there. before I could even finish the music, the melodies and song concept started to develop. The chorus was the first to come to me. But I said to myself that I didn't want to write this purely from my perspective. So I sent the raw version with me singing the hook to Matias and Monet Esbee who are both great writers in their own rights. They both loved it. We came together and finished the song in one session. Let me tell you the responses have been some of the best I've experienced in my career, I'm very grateful and optimistic about it.
@skopemag: How did you decide who to work with on this new project and are the musicians excited?
S: Some of the artists I already knew. I just reached out to them and asked if they wanted to be a part of it ,thankfully they all said yes. Others I had to dig and research and hope they would respond. But the ultimate decisions were on whether they were a good fit for a particular song, The song is always number one, we are slaves to it, it has to get what it needs in order to succeed. Everyone is very excited about it and they actually have their own singles and eps that they are working on. Some of my work on my Project will crossover and be a part theirs as well.
@skopemag: What are you looking to show the world with this new project and what can fans old & new expect?
S: There are so many things that I'm excited to share with the world. I'm combining multiple genres, languages and cultures (a world fusion of POP, Dance, Caribbean, Trap, Alternative and singer songwriter). So far I have artists from 6-7 countries around the world. The songs are really great songs. But for the most part are very radio friendly, club friendly and acceptable for just about anyone.
@skopemag: I have yet to hear of the genre Caribbaeton until now. Can you offer what that sound is like and what sets it apart?
S: I thought about today's Reggaeton (which I love) and said to myself, the origin of the rhythms and beats came from the Caribbean, why not combine the original Afro Caribbean sounds and culture along with today's modern Reggaeton and make it a thing I call Caribbaeton. The actual seamless combination of the two is what I believe will set it apart and it will surely evolve from there.
Quote: "I love the record; I really respect you as a producer. The world should know about you." — Grammy Award winner Wyclef Jean
@skopemag: When you are not involved in music making, what else do you enjoy doing?
S: I enjoy cooking and experimenting with different foods and flavors; and recently secured my first catering jobs. I love to travel and relax too. When I get the time, I like to mountain bike (pedal bike) and build furniture.
@skopemag: What is coming up for SynthetikReal and where you @ online?
S: There are a lot of things coming including a few movie licensing deals and cross branding opportunities. The next song coming out will be called "Reaction" there are three versions featuring artists from Congo Africa, Venezuela, Bahamas and Jamaica. When it's available I'll be sure you are one of the first to get it. Thank you so much for allowing me to be interviewed in your magazine.