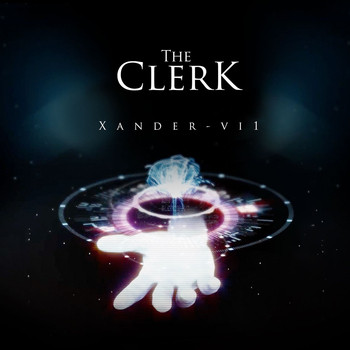 Like most budding musical prodigies, Caleb Hanks, aka The Clerk, began exploring his artistic interests at an early age. Composing his own music from the age of 12, Hanks later served as front man and primary songwriter for electronic rock band Nova Echo before embarking on a solo career. The fifteen song collection Xander-Vi1 is the musical extension of Hanks' associated graphic sci-fi novel project The Clerk Chronicles, a work capturing the attention of many included former Blink-182 stalwart Tom Delonge, and can be considered a standalone musical work as well as a soundtrack for the aforementioned graphic novel. The release is a DIY affair, in many respects, with Hanks assuming sole responsibility for its composition, mixing, and mastering, but it's far more polished than you might expect considering its origins. Caleb Hanks is an exceptional talent whose broad-based skills are more than sufficient to make this a memorable release.
BANDCAMP: https://theclerkmusic.bandcamp.com/album/xander-vi1
"The Sounds", the album opener, serves as notice this release is not business as usual. Hanks utilizes a number of electronic instruments during the course of the album's fifteen songs, but he also proves himself expert at incorporating near ambient textures to underline the individuality of his song craft. Some might go in to listening this album expecting more than a few strictly instrumental tracks, but Hanks subverts expectations by building every cut around definable vocal melodies that add a bit of normalcy to an otherwise unusual release. He breaks out guitar in a big way with the album's second track "Atlas_", fitting considering the title, but this isn't a guitar hero spotlight he seeks; instead, he uses the six string to punctuate the already big, expansive sound defining the release as a whole. The same penchant for fine vocal melodies remains in place, however, and contrasts nicely with the song's aggressive sound.
The restless percussion driving the title song forward gives it a kinetic energy shared by few other tracks on Xander-Vi1, but it isn't the track's sole merit. Among other qualities, the title cut demonstrates the solid production values underlying the release as a whole and thoroughly belies its indie DIY origins. Anyone bemoaning the artificiality of electronic instruments when compared to their more traditional counterparts would be well served to study the song "Ghosted". The arrangement is rife with every bit as much emotion as you'd find from more time-tested approaches and, in particular, Hanks' vocal is full of genuine soulfulness you wouldn't normally associate with this sort of material. It's just more evidence for how truly different this release is from the typical.
"Aura", one of the album's longer cuts, begins with a thick synthesizer fanfare before segueing into a frantic arrangement replete with dazzling electronic flourishes. It soon settles into more sedate, slowly evolving verses and Hanks adopts the same low key vocal approach distinguishing many of the tracks on Xander-Vi1. The space he creates in this song backs away some from the "everything and the kitchen sink" creativity shaping so much of the collection and marks an intelligent change of pace. The penultimate cut "Stasis_L51" definitely emphasizes we are nearing the album's conclusion thanks to its appropriately dramatic sound, but the strongest element of this song is his dazzling vocal presentation. It's one of the album's highlights in that regard if no other. His closer "The Only Thing" continues the vocal excellence while providing the release with a conclusion in keeping with the album's ambitions while still aspiring to a level of intimacy not always common on Xander-Vi1. Despite the album's sci-fi trappings, every song makes it apparent how much passion Hanks has invested in the writing, recording, and performance of these songs. It makes this album one of the best I've heard in some time and will make believers out of those who might otherwise dismiss electronic music.
Gwen Waggoner