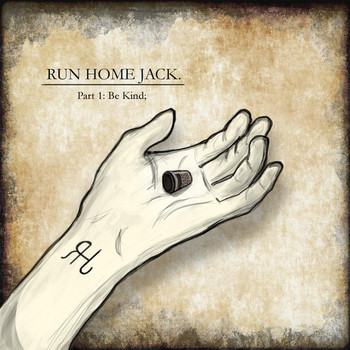 Greensboro, North Carolina's Run Home Jack will garner a lot of well deserved attention on the backs of their latest single, "F.Y.H.T." (an abbreviation for "Find Your Happy Thought", culled from their upcoming sophomore EP release Part II: I Tried. The band's core members singer/guitarist Jersey Neese and drummer Harold Godwin are joined by guest Wes Lauterbach from the band Lowborn and the collaboration results in one of the more combustible rock efforts in recent memory while never succumbing to the standard litany of clichés often dragging down similar work from their contemporaries. Run Home Jack touch on familiar genre motifs and sounds while refurbishing them with their own identity in a way certain to grip modern audiences.
Neese has an interesting voice. In some ways, it's a prototypical rock vocal with muscle to burn, but he couples raw lung power with a satisfying amount of emotive finesse largely due to his ability to convincingly inhabit the upper end of his vocal register without betraying even a hint of strain. His vocal bray reaches its zenith with the song's chorus and he unleashes an impassioned reading of the lyrics that never risks overwrought histrionics. Instead, it feels and sounds like it should – the climatic knockout punch from verses explicitly building towards those moments.
Godwin's propulsive drumming is busy without ever being gratuitous. He also exhibits an inherent understanding of how the percussion dynamics can influence the trajectory of a performance and his choices in this area enhance an already hard-hitting track. The strong riffing and rhythm guitar work driving the song forward alongside Godwin eschews any six string heroics; you won't find any gratuitous guitar solo in the middle or near the end of the song, a thoroughly modern choice for a rock band and a welcome respite from the masturbatory self-indulgence often marring otherwise first rate rock tunes.
You can't help but applaud the positive message underlying the songwriting. Run Home Jack, unlike many modern and older rock bands, doesn't feel any burning need to weigh down listeners with hackneyed or melodramatic despair and darkness. Instead, they urge the listener to embrace the best within themselves and hold onto it despite whatever life may throw their way and, moreover, they convey those sentiments in believable fashion rather than sounding forced. The minimalist video accompanying the single's release is, likewise, worthy of our applause. Run Home Jack reject any needless tinsel in favor of a straight forward clip depicting the band doing what they do – generating tremendous energy for the viewer and playing to the camera, albeit never in a hamfisted fashion.
Run Home Jack, first formed in 2017, have claimed an identifiable sound that never smacks of imitation and are successfully building on the buzz generated by their debut three song EP Part 1: Be Kind while still remaining faithful to the initial impulse behind their formation. This is an entertaining example of what young rock bands are capable of and gives lie to the idea and this genre is moribund and consigned to endless repetition. "F.Y.H.T." is an excellent introduction to the band for newcomers and will reassure existing fans that Run Home Jack's exponential growth will continue unabated.
Gwen Waggoner