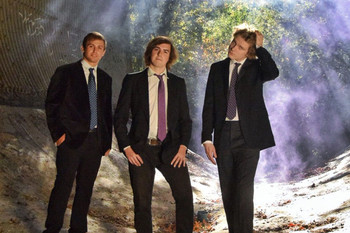 Raised On TV began where every rock band should: in the garage. In 2015, brothers Keaton Rogers and Kacey Greenwood started banging out melodic, fuzzed-out tunes with high school buddy Ryan Weiss. They soon realized they had some seriously good songs, so it was time to get serious. One EP, one full-length, and more than a few DIY tours later, they are ready to release the Season 2 LP.
The first single, "Caroline," is a driving, distorted call to never lose sight of the special things right in front of your face and never let the important things in life lose focus. Its loose yet locked-in verses recall the best of Teenage Fanclub and lift off into a rock-solid power pop chorus that'll bounce around your headspace and take its own sweet time to leave. The guys knew they had a gem on their hands when they emerged from the aforementioned garage to find Ryan's mom humming the song- and that's a tough audience.
The band knew they needed to up their production game for Season 2, so they reached out to Grammy-nominated engineer Mark Needham. He's produced tracks for Fleetwood Mac, Imagine Dragons and Bloc Party, and is the guy who mixed the Killers' double-platinum "Mr. Brightside" in 40 minutes. He liked what he heard and brought them into Hollywood's Elephant In The Room studio.