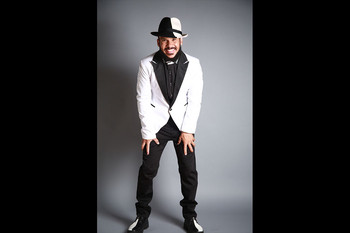 Born in Jerusalem Israel, Menachem "Menny" Amram grew up in a very musical family. He began to explore his musical talents at a young age, starting with the drums and soon discovering a love of writing poetry and singing. His performances at school would leave his audience wanting more, but as an Orthodox Jew in the middle east, people didn't understand. "You cannot make it big if you're there," he says; in 2002, he moved to the United States.
Seventeen years later, Menny lives in Brooklyn and hasn't looked back. Here, he's established himself, honing his skills and perfecting his music, as well as worked as a DJ for weddings and various parties (he once won the title of DJ occupier of audience). In 2014, he participated in a program to promote singers, sweeping the crowd with unbelievable talent and energy. He also studied hip-hop and pop dance with Robin Dunn and Tweet Boogie (who is now his choreographer) at the Alvin Ailey Great School of Dance in New York.
Menny has never given up, and now, he's working on an album, writing lyrics and melodies to build his songs. Inspired by his own life story and the musical greats like Michael Jackson, Justin Timberlake, Rihanna, Usher, and Jason Derulo, he hopes to sing not just to the ears, but straight to your soul. Along with producer Cannon Mapp, he's now shared the video for "Wings" featuring Sean Kingston. "Wings" is about a lady that's so special, she lifts you up. Filmed in Los Angeles, the video is simple and not flashy. There are no other girls; instead, it's Menny and Sean Kingston, dressed to the nines. On a rooftop at sunset or in a room full of emerald foliage, they're singing and dancing it out in honor of the women who give them wings.