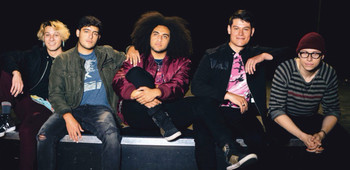 Gypsy Temple's debut music video begins with a powerful statement on place, purpose, and experience. Swimming with youthful optimism, the eye-opening "Pick a Number" inspires us to find the majesty in our own lives through charming and impassioned alternative rock.
Majesty is in your hometown. That's the spirit behind the brand new video from Seattle-based alt rock band, Gypsy Temple, for their debut single, "Pick a Number." Asking the question do we find love through destiny or chance, Gypsy Temple's video director Marko Kharmyshev manages to introduce the world to Gypsy Temple's dynamic live performance while weaving a story line inspired by a wide spectrum of classic films from Bill Murray's Ground Hog Day to Cameron Crowe's Seattle grunge music scene inspired film Singles.
The majesty is never far away in this video. In fact, it can be heard in a song hummed by the stranger you barely ever notice every day on your elevator, or seen from the staircase of your apartment that you've descended a thousand times. Majesty is in the ceiling of a train station and in the strummed strings of a cello. And majesty, not least of all, is in a fresh cupcake you share with a new crush before waking up the next day to brush your teeth, comb your eyebrows and start all over again. See for yourself in this gloriously cathartic debut video from the youth driven new band, Gypsy Temple. Gypsy Temple's sound draws inspiration from such alt-rock greats as White Stripes, Royal Blood, Kings of Leon, Australia's Gang of Youths and obvious homage to Seattle's grunge legacies Pearl Jam, Soundgarden & Nirvana.