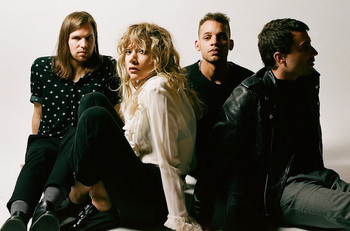 Yesterday saw, LA's machineheart debut their visually enthralling, cinematic video for new single "Altar" – a haunting electro pop track that sees frontwoman Stevie calling out for salvation from a higher power, appearing at once both vulnerable and assertive. The track is taken from the ethereal indie pop quartet's highly anticipated debut full length album, People Change which out now – 8th February.
machineheart's beguiling frontwoman and lyricist Stevie Scott reflects on the track, "'Altar' started as a very rudimentary, guttural response to inward despair. There was so much commotion going on in the world and I didn't fully know how to process it. It was my birthday actually, so I remember it well. I started slapping on the guitar and sort of talk-singing through the verse. I'm so spongey when it comes to emotions and I just couldn't hold in the measure of sadness that day. I do think it ended up having hope and triumph in the end and that's very true to how I view the world. Even in deep tragedy, there is still beauty to be found."
People Change was co-produced by Jim Abbiss (Arctic Monkeys, Adele) and recorded between Los Angeles, Seattle-area and Toronto. From quite introspection to lush soundscapes, the album explores how emotional dissonance can yield beauty.