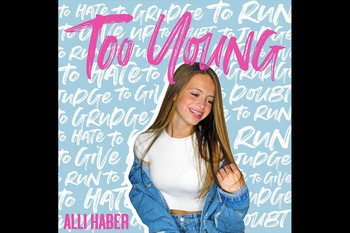 In a world full of negativity, don't we all need something positive?
If you're looking for something to brighten up your day, look no further than rising pop singer Alli Haber. This teen may be new to the world of music, but she's ready to shine. With her first ever single and music video "Too Young," Alli Haber is here to show the world just what she can do.
http://www.allihabermusic.com/
"Too Young" is not only an instantly memorable pop tune: it also has an uplifting message. While most kids her age are susceptible to the crushing expectations that are levied on them starting at a young age, Haber is still able to step back from the trees and see the forest.
Don't mistake this positivity to be some sort of naivete, either. It's a conscious effort to know that the world can be full of ire and angst, but to make it a point to not fall into that trap. "Too Young is about holding on to the optimism and ideals of youth," says Haber. "It is an anthem encouraging young people to celebrate living in the moment, being free and embracing all the positive things about being young, despite negativity from others."