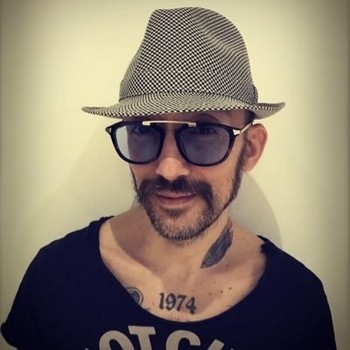 Churning out the darkness comes a bright melody driven by the vocal of singer Iossa in the opening salvo of his collaboration with Wlady & T.N.Y., the brand new track "Beatrice," and before long a gilded piano slithers through the silence like a serpent and beckons us towards a jungle of riveting tones. An implied rhythm is itching to take shape, but Wlady & T.N.Y. are in no hurry – they want to make this tension last as long as possible. The lyrics fall from Iossa's lips with a reverence that is opulent and impossible to ignore, and though the music is beginning to gather into a visceral brute force before our ears, we aren't scared of the immense harmonies that are about to throttle us with all of their might.
Multilink for streaming & download here: https://SMI.lnk.to/BeatriceWladyTNY
Hand claps turn into big bad beats as we reach the main hook in "Beatrice," and there's nothing to shelter us from the drums that are plummeting from the sky and causing a torrid tremor to form beneath the floorboards. Iossa's vocal reverberates into the ethers, jettisoning away from all of the ferocity in the instruments in hopes of finding a safe place to ride out the storm. This song doesn't flow as evenly as we anticipate it will; Wlady & T.N.Y. instead employ a collection of colorful explosions that season the music with catharsis amid the lyrical yearning that Iossa discharges from the front of the stage. I'm well aware that they recorded this song from the comforts of a professional studio, but were I not privileged to this information, you easily could have convinced me that this was recorded in the heat of the moment, live from above a packed nightclub begging for the music to keep on coming.
BEATPORT: https://www.1001tracklists.com/track/1lr98qzp/wlady-t.n.y.-beatrice/index.html
"Beatrice" has all of the ingredients that are required to make a stylish, urban pop song but it doesn't utilize them in the same way that a mainstream recipe would call for. Everything revolves around making this melody as bold and beautiful as it can be, and at times that means making the vocals the only element that we're able to stay focused on, and in others allowing them to take a backseat to the passion of the primal percussion that balances the track out. Wlady & T.N.Y. are the best at producing singles that astonish us with the scope of their musicality, and this song definitely raises the bar even higher than they'd already set it.
As the galloping drums and elastic vocals fade into the silence and all that we're left with is the rhythm of the track looping over and over in our minds, repelling the urge to play the song again is a tough challenge to say the least. "Beatrice" is an addictive, affective EDM single that doesn't ask a lot from us as an audience but rewards all who sample from its smorgasbord of textures with a treasure chest of tones and melodies worth telling your friend about. Together with Iossa, Wlady & T.N.Y. issue a really exceptional song to start 2019 off with in this most recent release.
WLADY ON TWITTER: https://twitter.com/wladyofficial
Gwen Waggoner