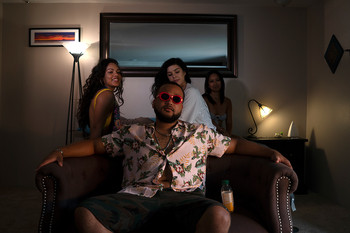 Who says it always rains in the Emerald City? People who know and love the Pacific Northwest would be quick to tell you: Seattle has more than its share of beautiful days. The skies are clear and blue in the video for "Bouncin", the latest single from Seattle emcee Maribased1, and the aerial shots of his neighborhood by director Ife Adeniji, who calls himself the Video Dope Dealer, are nothing short of breathtaking. Just as Maribased1's clip for his prior single "Doe Boe" showed viewers a side of Seattle they don't normally see with a look at the grimy backstreets of the town's rougher neighborhoods, the sunny, breezy, warm-weather "Bouncin" video does, too.
http://www.instagram.com/maribased1
Broadening the perspectives of outsiders is one of the many things that Maribased1 does well. In his music, he presents a multifaceted Seattle: a Seattle of dealers and customers, party kids and serious grownups, the rich and the poor, the hustlers and the thieves, the beautiful and the ugly, all side by side without any contradictions. He's carrying on a long tradition of Pacific Northwest storytelling, and doing it with formidable skill and an irrepressible sense of fun. On the 24 OZ Mixtape series, his beats and his flow draw from hip-hop past and present – you'll hear echoes of contemporary H-Town production, classic Bay Area hyphy (his name is an allusion to Lil B), and, in the unflinching honesty of his verses, even a little old-fashioned East Coast narrative rap. This is the new Northwest – a cultural crossroads at a corner of America – and Maribased1 is one of its undisputed leaders.
He never misses an opportunity to show Seattle pride. In the "Bouncin" clip, he wears two jerseys: one sporting the number of Seahawks bruiser Marshawn Lynch, and the other after Gary Payton, legendary point guard of the lost and lamented Sonics. He shows us inside his house – and then he takes us on the roof for a barbecue overlooking the streets. That's only one of the views of the Seattle skyline he and the Video Dope Dealer show us. The other is from the far side of Elliott Bay on the Puget Sound, where Maribased1 and his friends park the car, party, and count their stacks of dough.