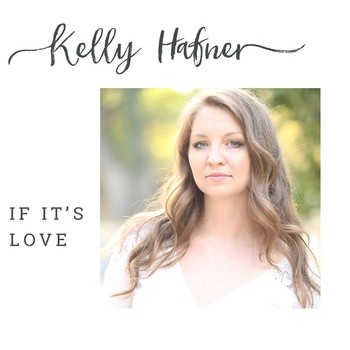 I know I've said this before in the past but it's damn true that 'If it's Love' doesn't even remotely sound like a debut album for Kelly Hafner. This new release for the singer/songwriter from Austin, Texas comes across as a finely-tuned production from a seasoned professional in the studio. I am in Love with this 10-song set from Kelly Hafner as the record embodies so much depth, clarity & quality.
Hafner is a graduate of The Berklee College of Music and eventually headed to Austin to kick-start her solo career. I think it was the right move just based solely on what I'm hearing on 'If it's Love'. The album starts up with the title track that is just musically sweet & rich highlighting Kelly's smoky, smooth and sultry vocals. You won't be sleeping or daydreaming on the next number, "Dreams", that offers a wonderful arrangement and comes across as Classy 'N' Jazzy Soul Pop to me. Love the instrumentation on track three, "Keep On Hanging On", that provides such a cool style overall with positive & passionate energy radiating off of Kelly as she graciously glides through the tune. Next up is "Things Are Changin'" that gives the listener some funky rock guitar grooves added in with the fun atmosphere that sets the mood right to get the party on tonight! Lift up your spirits on "Lifted" and then enjoy loose & free-spirited vibes and a catchy hook on "Summergirl". Once again, you will get a funky rhythm on "On My Mind" that showcases Kelly Hafner as the powerhouse singer she is. On this song, one will witness Kelly's soul-drenched notes, BIG sound and powerful persona getting wrapped up in your mind all day. Finish with a relaxing, enticing and bright melody on track nine, "Give Light", and then prepare for a glorious-sounding finale on "Angel" where an angelic voice can be heard loud & clear.
In the end, I am so impressed with Kelly Hafner and her debut album, 'If it's Love', because she sings & performs with so much heart and determination. I can't forget to mention the terrific session players on this record as the rhythm & horn sections were a perfect compliment to Kelly's improvisational style of approaching verses and bars of music. Kelly Hafner is simply ON FIRE with 'If it's Love' and if this is only her first attempt, I can not wait to see what follows!
By Jimmy Rae (jrae2@att.net)