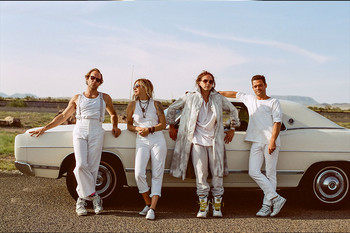 If you're going to tour with Queens of the Stone Age, you'd better have your rock – and your grooves – in place. The QOTSA audience is famously discerning, and those fans will settle for nothing less. But when Josh Homme of Queens of the Stone Age personally selected Broncho to warm up the crowd for his band on the Villains Tour, he knew what he was doing. Broncho delivers indie- and garage-rock with the perfect balance of muscle and finesse – and the Oklahoma four-piece always delivers. They've proven that time and again, during opening slots for some of the world's favorite rock groups, including Cage the Elephant and Portugal, The Man. And after the release of Bad Behavior, their third full-length, they're ready to take their place among the headliners.
Site – http://broncho.tv/
Bad Behavior is an irresistible amalgam of rock swagger, punk cool, and pop smarts. Each song foregrounds a barbed hook, but they're all drenched in atmosphere and mystique, too. The music press has noticed: Bad Behavior drew raves from critics at Exclaim, Vinyl, the AllMusic Guide, and many other outlets. The new set, which was released in October, builds on the indie success of "Class Historian", the 2014 single that established Broncho as a band to watch. "Class Historian" premiered on Stereogum ("bright, buzzing, preternaturally hooky retro garage rock… some bizarrely satisfying hybrid of T.Rex and Phoenix, or is that Pavement covering Bruce Springsteen?"), and has been heard on the Cartoon Network and on the soundtrack for the 2015 film Vacation.
Broncho also takes music videos seriously – but they're not afraid to play around with the conventions of the medium. Richard Farmer's clip for "Big City Boys" is a perfect example. At first glance, it's a clip about roughnecks, and we see them brawling, drinking, racing cars, and engaging in the kind of one-upmanship familiar from small-time gangster movies. But Farmer and Broncho manage to invert the expectations of the audience by casting women in all of the roles.