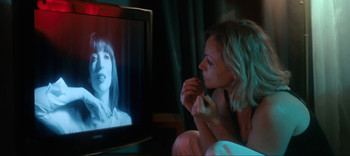 Ahead of the vinyl and CD release of Ex:Re, the debut album from Elena Tonra's eponymous solo project, the Daughter lyricist, vocalist and guitarist has shared stunning visuals for the single 'The Dazzler'.
Directed by Iain Forsyth and Jane Pollard (creators of Daughter's triptych of videos for their second record Not To Disappear), the video imagines 'The Dazzler' as the hotel depicted in Tonra's lyrics and places the magnificent British actress Maxine Peake languishing alone in one of its rooms (with cameo appearances from Tonra and Ex:Re collaborator Fabian Prynn).
Talking about the video, Iain and Jane explain, "Elena told us The Dazzler was a real place, but we wanted to transform it into a hotel of the mind. That lost, sedated limbo you get stuck in when you can't get over your last relationship. With a colour palette borrowed from Hitchcock's 'Vertigo', our hotel room becomes a kaleidoscopic vision of a world stuck in an endless loop. Swimming in regret and drowning in thick alcohol.